In the digital music streaming industry, Digital Rights Management or DRM is not something unusual. In fact, it is one of the crucial things digital streaming providers take into consideration on the services they offer and their digital sound content. There are hundreds of digital streaming providers, most of them are in the music industry. One of the leading brands and companies is Apple Music. And Apple Inc. generally uses DRM. Is it legal to remove DRM from Apple? If so, what's the best Apple Music DRM removal tool people can use?
Before we get to the best part of this post, let's bring all the facts together to understand further these two things that are on your mind right at this very moment. Understanding these two things and how they work will help you follow through with the best free DRM removal tool I have in store for you. Let's get things fired up!
Article Content Part 1. Is it Legal to Remove DRM from Apple Music? Part 2. What is the Best Apple Music DRM Removal?Part 3. How to Remove DRM from Apple Music with TunesFun?
Part 1. Is it Legal to Remove DRM from Apple Music?
For years and years, the vast digital industry is constantly facing different technological challenges. And with the innovation and evolution of music technology, traditional copyright is not excluded. Challenges such as illegal file distribution, online piracy, and torrent sites, to name a few, are reasons why various platforms have clear-cut the use of DRM to intensify their rights to protect their contents, consumers, or customers, improve service efficiency, and so on. DRM helps companies, artists, content creators, musicians, filmmakers, moviemakers, and other digital creators to safeguard, manage and control the end-users access and boundaries to their contents.


With DRM as the element of content insulation, Apple Music is generated with it. Apple Music is a paid subscription streaming provider, which means you can purchase some of the tracks you want to listen to using the app. Even if you have paid for the Apple Music tracks you want, you basically still don't own your purchase because everything is DRM-encrypted. Millions of Apple Music users cannot help but question their rights to take hold and control their Apple Music the way they want to. Going back to the question if it's legal to strip DRM off of Apple Music, the answer is conditional. Users are not, by right, allowed to remove the DRM from Apple Music if not for personal use. If your only intention is to have your Apple Music tracks saved outside of the app, then yes, it is legal.
Part 2. What is the Best Apple Music DRM Removal?
I assume the search engine has brought you to different web pages stating the best DRM removal methods and tools; Even promising you features that don't really work out for you. It's kind of frustrating, though but coming across the only solution that actually enforces the practical steps of Apple Music DRM removal is the cherry on top.
To cut to the chase, let me introduce you TunesFun Apple Music Converter. It is the best free software that guides and helps users modify Apple Music tracks, music from iTunes, and even Apple audiobooks to convenient formats.
Key Features of TunesFun Apple Music Converter:
Free conversion of Apple Music, iTunes songs, and Apple Audiobooks
16x faster conversion speed compared to other converter programs
Support multiple Apple Music conversion
Preserves ID3 Tags and Information such as artist, title, album, release date, genre, and more
Identifies Apple Music information, including artworks and track metadata automatically
Supports a number of common formats like MP3, AAC, FLAC, WAV, and more
Windows and Mac OS friendly
Unlocks purchased Apple Music contents
Keeps genuine qualities of tracks
Access to download millions of Apple Music songs
Access to Apple Music offline experience
Allows users to play Apple Music on multiple gadgets from smartphones, laptops or computers, television, gaming consoles, iPods, Zune, PSP, Android devices, Apple gadgets, and many more
User-friendly interface
Easy access to help support
Part 3. How to Remove DRM from Apple Music with TunesFun?
The only reason why you want to get rid of DRM from Apple Music is that you want to enjoy Apple Music to a great extent. And also because it's a given fact that Apple Music can only play on an iOS device. So you are probably thinking that removing the DRM inscribed into Apple Music is a complex task to accomplish.

It is honestly not. Especially if you are working with not only free but the best DRM removal program. And now that you are already familiar with the star features of TunesFun Apple Music Converter, I won't make you wait any longer. Follow these simple and fastest methods below on Apple Music DRM removal.
Method 1. Download and Install TunesFun Apple Music Converter
You have to start by downloading and installing TunesFun Apple Music Converter first.
Method 2. Launch TunesFun Apple Music Converter
Following your download and installation, launch TunesFun Apple Music Converter on your device.
Method 3. Select Apple Music Songs
Once TunesFun Apple Music Converter is launched on your device, select the Apple Music songs you want to convert from the "Library" section. You can add as many pieces as you like for multiple conversions.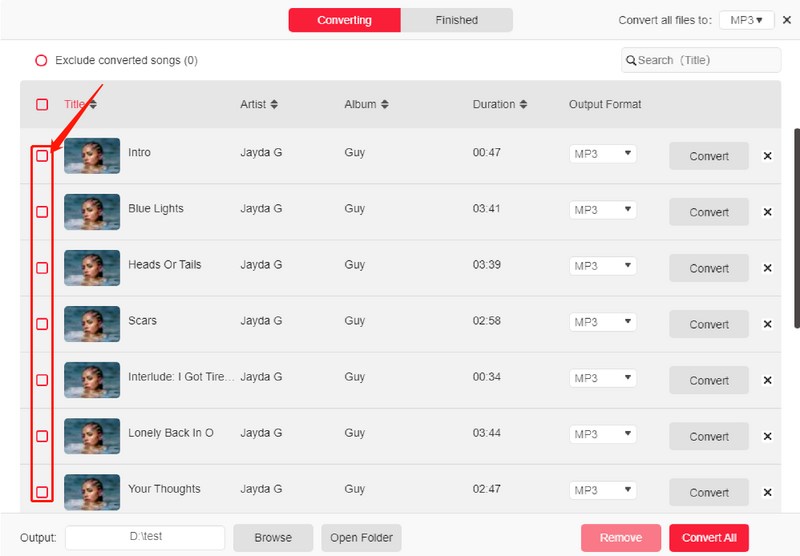 Method 4. Change Output Settings for Format and Destination Folder
Once you are done selecting your Apple Music songs, proceed to choose the "Output Format" on the "Output Settings" section of the window. Then select a folder to where you want to save the converted Apple Music songs from the "Output Folder" navigation.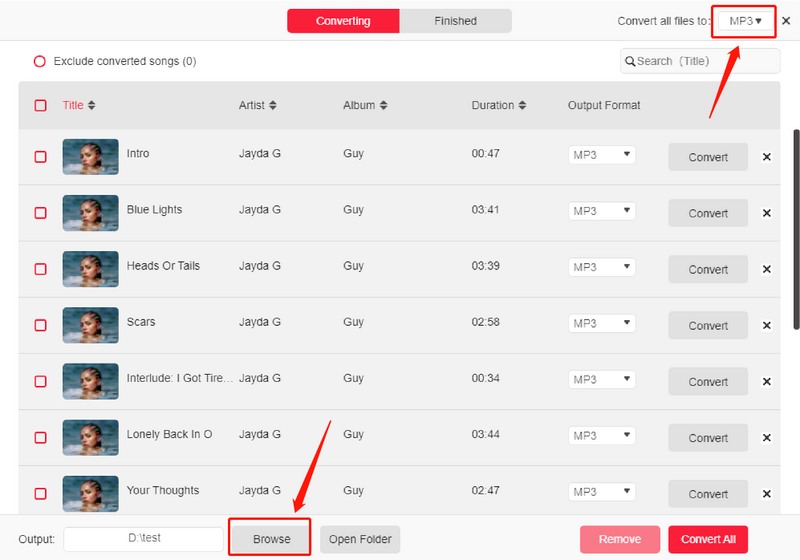 Method 5. Start to Convert
After following the previous methods, you can now start the conversion process. Make sure to check all of the options before you convert. Once confirmed, hit the "Convert" button. You can find all of the downloaded and converted files in the destination folder you chose. And you're all set to unlimited offline streaming of your favorite Apple Music tracks without the DRM.