Description: Deciding between Joox vs Spotify? This article will give you the lowdown on these two competing platforms.
Online streaming is currently the most popular form of music consumption. Big names like Apple, Spotify, Amazon might have dominated the streaming markets, but many new music streaming platforms have emerged in the last decade.
While Spotify reigns as a top-tier music streaming service, would you believe it is only second to Joox in Thailand or Hong Kong? If you haven't heard of Joox yet, that is because it is not even a decade old, or maybe you don't reside in Asia. This article will introduce you to this new contender and bring on Joox vs Spotify to give a perspective on the competition.
Joox is a relatively new contender in the audio streaming race by a Chinese company that collaborated with Spotify to create QQ Music (another streaming platform). Spotify is one of the forerunners of music streaming, to make a good reference. Are you ready to start the battle?
Article Content Part 1. Joox vs Spotify: OverviewPart 2. Joox vs Spotify: Detailed ComparisonPart 3. Bonus: How to Remove DRM from Spotify Music?Part 4. Summary
Part 1. Joox vs Spotify: Overview
Before digging into the details of Joox vs Spotify, here's an overview to give you the background and basic information on these two platforms.
Spotify is a Swedish digital audio streaming and media service provider that allows you to access music, podcasts, and video online. Founded in 2006 by two Swedish entrepreneurs and launched in 2008, it took two years to reach 1 million subscribers. Today, Spotify is a publicly-traded company, hailed as the king of music streaming with about 170 million paying subscribers.
Spotify is currently available in 178 countries but popular in Europe, the US, Australia, and New Zealand. It offers an ad-driven freemium plan with basic services and ad-free premium plans that provides more features. The music streaming giant's popularity is due to its massive library and excellent music discovery feature that recommends songs based on your playback history.
Joox is a fairly new music streaming service launched in 2015 by Tencent, a Chinese technology and entertainment conglomerate and holding company. Joox is now the biggest music streaming app in Asia, popular in Thailand, Hong Kong, Malaysia, and Indonesia. It has also launched in South Africa as its first non-Asian market. In 2017, it was reported to have garnered 50 million downloads and streamed two billion times in the same year.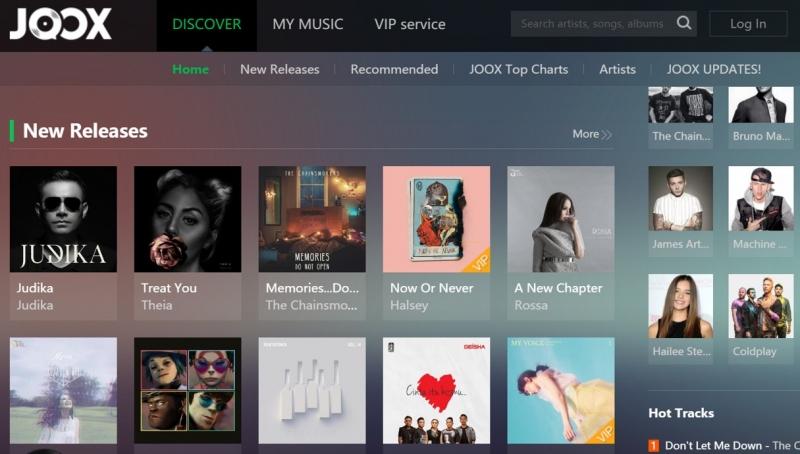 Joox may not be as popular globally as Spotify, but it's already big in its territories. It already occupies more than 50% of the music streaming market share in Thailand and Hongkong. Like Spotify, Joox offers free music but without annoying audio ads. It uses the more unobtrusive banner ads. The platform has more than 40 million songs in its library. While its music collection is smaller than Spotify, its strength is providing localized content in its key markets. Joox has more to offer. Let's dive into a more detailed comparison.
Part 2. Joox vs Spotify: Detailed Comparison
Music Library Size
One apparent reason for Spotify's lead position in the music streaming industry is its massive content library. Spotify hosts about 70 million tracks with 3 million podcasts titles from major record labels and big media companies. You can find almost any international artist or songs here in different eras and genres.
Joox pales compared to Spotify in this part, hosting only about 40 million songs. While the quantity difference seems large, most Asians still prefer Joox over Spotify due to the number of local songs available to them. Joox makes the grade by focusing on local labels and artists to connect with local audiences.
Cost
Both Joox and Spotify offer freemium subscriptions that let you access a vast library of music at no cost. Spotify users can enjoy basic audio streams in shuffle play with audio and video ads playing between tracks. Joox, on the other hand, didn't follow Spotify's ad format and opted for splash ads and less annoying banner ads.
Spotify's paid subscription runs from $9.99 for a single user up to $19.99 per 6 users. Joox VIP costs about $2.95 for a single user, which is cheaper than Spotify. They both offer unlimited skips, high-quality streaming, no ad interruptions, and offline listening for premium subscriptions.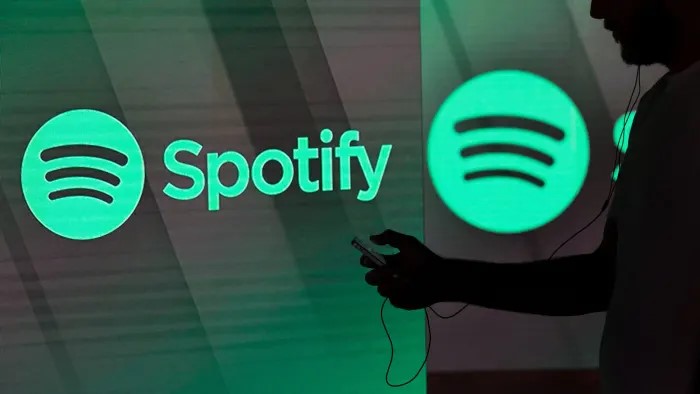 Audio Quality
The free subscription on Spotify streams music at 160kbps and 320Kbps for premium accounts. Joox conveniently offers two choices for its free users- 64Kbps and 128 Kbps. While these bitrates deliver lower-quality music, it allows users to cut data costs. Joox VIP offers the same 320Kbps bitrate as Spotify premium.
Music Discovery and Recommendation
Music discovery made music streaming a personal experience by allowing users to easily find their favorite artists and songs. This feature has become a significant attribute that subscribers look out for in a music streaming platform. Spotify has excellent discovery and recommendation features that include weekly and even daily playlists. These features are based on your listening history and related data.
Joox also doesn't disappoint in this category. Its music discovery and recommendation includes Editor's Picks, Featured Artists, and New Releases that are trendy and relevant to its users. Indeed, it pays off to be a music streaming platform run by an entertainment conglomerate.
Additional Features
The battle for Joox vs Spotify might seem settled but wait. There's more! Let's look into what more each can offer aside from music streaming.
Spotify seems invested with your personal listening experience and incorporating it with your other devices. Its advanced search features, voice control, and multiple device connectivity allow you to seamlessly use and connect your Spotify to home speakers and other gadgets. You can see personal data, follow friends, make collaborative playlists, and use "Private session" to make your listening private.
Joox has its own strategy and put in Tiktok-like trending short videos, live video group chat groups, and of course—karaoke. Lyrics display are not enough (Spotify has lyrics). Joox lets you download songs to sing along via 'Quick sing' and allows you to sing the pre-selected song parts to show off in the short videos. Quick Sing lets you use filters, autotune, and stickers. It even has a weekly game with prizes. Now, this brings audience engagement!
Part 3. Bonus: How to Remove DRM from Spotify Music?
While you're thinking about Joox vs Spotify and still deciding on the winner, it's undeniable that Spotify dominates the library size category. As you know, Spotify's 70 million-plus tracks are free to listen to (with ads) but need premium for downloads. Downloaded songs are also playable in the Spotify app only for offline listening. When your premium subscription ends, so does your access to the downloaded tracks.
These restrictions on Spotify music's access are created by a Digitial Rights Management (DRM) system. Spotify tracks are encoded in Ogg Vorbis format and encrypted with DRM. If you want to download music without the DRM protection, TunesFun Spotify Music Converter is the app that will make your music life much better. You don't even need a Spotify premium account to download Spotify music.
This converter software will download and convert your favorite Spotify song, albums, or playlists to MP3, AAC, FLAC, or WAV formats. It operates at ten times the conventional operation speed while keeping the audio quality. You can then play Spotify music on your iPhone, Android devices, tablets, mp3 players, game consoles, or any media device with these standard music formats.
TunesFun Spotify Music converter has much more to offer:
Friendly interface that's easy to use for anyone
Free to try so you can check out the software before purchase
Email support ready to respond to your issues 24/7
Multiple language support including English, Japanese, German, French, and Chinese
Money-back guarantee to make sure you enjoy your purchase
Follow these simple steps to remove DRM from your Spotify songs.
Step 1. Download and install the TunesFun Spotify Music Converter app on your computer. Installers are available for Windows and Mac.
Step 2. Run the converter app and log in to your Spotify account.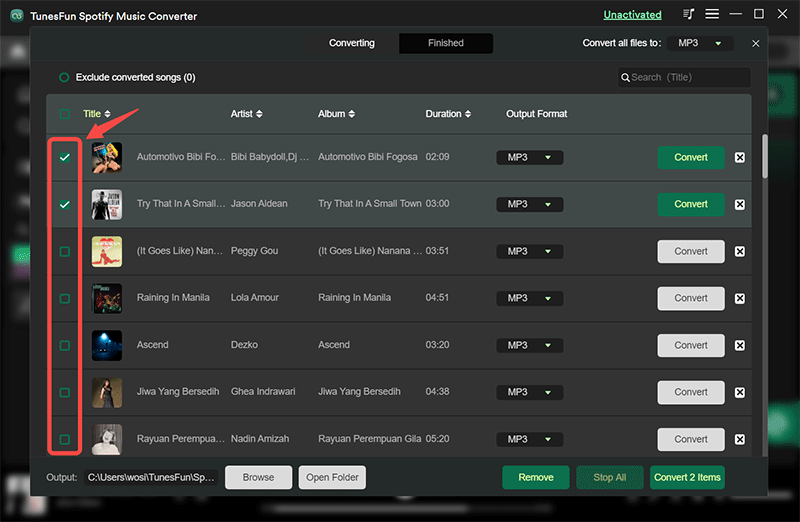 Step 3. Browse for the songs that you want to convert. Click on the Spotify songs and drag them to the green action button on the right side.
Step 4. Set the output format, then the destination folder for your converted tracks.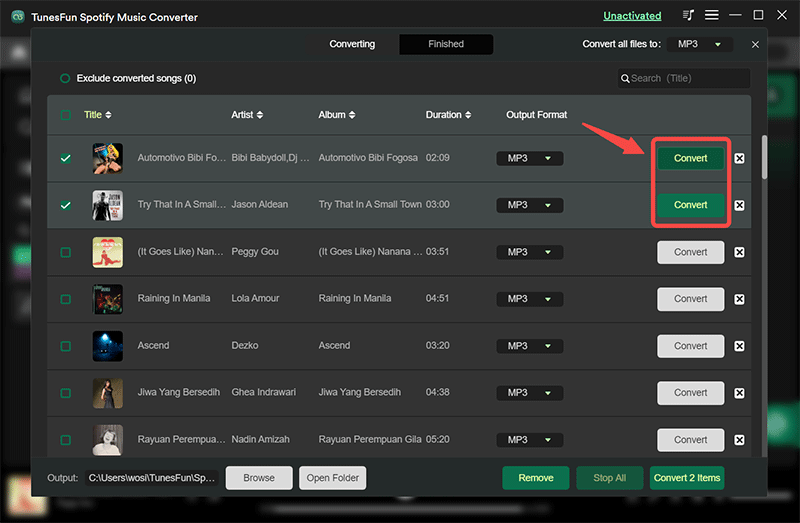 Step 5. Click on the 'Convert' button. Wait a while then a message will display when the process is done.
Your converted and DRM-free Spotify songs will be saved on the destination folder, available for playback anytime, anywhere on any device!
Part 4. Summary
You just got informed on the finer points of Joox vs Spotify from this article. Which audio streaming platform do you think is worth your time and money? The pioneer service or the emerging player, the world-renowned or the intensely local? How about both?
Joox and Spotify have their strengths and features to improve, and why not listen to both? Spotify's colossal collection and personalization features are excellent. At the same time, Joox's connection with the audiences and interactive features are exciting, too! Choose one over the other, or both. No worries with freemium accounts offered.
When choosing Spotify, know that you can download from its massive library with TunesFun Spotify Music Converter, even with your free Spotify account. Download and convert Spotify songs to standard music formats without the DRM protection. So you can enjoy your audio favorites anytime, anywhere on any device, or even on Joox or Spotify. Everybody wins!