If you are an audiobook lover, you will have heard of Audible. As one of the biggest audiobook platform providers. the service or Audible is reliable and satisfying at present. But Audile users always have some issues such as the Audible Download Manager not working, or failing to download audiobooks.
Audible Download Manager is the software that you will download audiobooks from Audible and organize audiobooks files on your computer. It can also help you import your downloaded files into your Windows Media Play or other devices. But it can still be incredibly annoying to try to download audiobooks if your download manager doesn't work. To enjoy your audios comfortably, you may need to repair this as quickly as you can.
Fixing the issue of Audible Download Manager not working may not be difficult here. You may resolve your audio downloader not working issue in some methods from this post. Continue reading to learn how to resolve the issue.
Article Content Part 1. How Do I Get Audible Download Manager?Part 2. How Do I Fix Audible Download Manager Not Working?Part 3. Alternative to Audible Download ManagerPart 4: Summary
Part 1. How Do I Get Audible Download Manager?
As we mentioned above, Audible download manager can help you download favorite audible books to your PC and then imports them to media player for playing and organizing. So, how do I get this software? Here we will share the complete procedure that you must know and follow
To acquire and operate Audible Download Manager, users must first install the software. You will also have to approve your computer in order for it to function correctly or you will find Audible download manager not working. The procedures of acitvating Audible download manager are as follows:
Step 1: Launch the Audible Download Manager. Click the "Activate PC" under "Option" button.
Step 2: You would be prompted to input your Audible login information via an Amazon pop-up screen. To continue, input your information.
Step 3: A second pop-up window will appear if your registration was completed, stating as much.

By turning on your PC, you may observe the Audible DRM protection system. You must always use an audio player that Audible has approved, including such apple music or Window Music Player.
As you'll see, Audible Download Manager is a really useful program, and like many programs, it also has limitations. You may face issues when using it, including such Audible Download Manager not working.
Part 2. How Do I Fix Audible Download Manager Not Working?
This is a very common problem that many Audible users have been facing. There are several reasons why Audible Download Manager not working. The result of the issue might be caused by the program or your computer's operating system.
One way to handle this kind of problem is to reset your computer's settings and start over again. This will help you avoid any potential issues that may have been caused by updates or other problems. You can also try removing any software that might be causing problems like viruses or malware programs.
In this part, we will share more methods proven by some users who have met a similar problem.
Method 1: Update Audible App
The first thing we need to note that check Google Play Store or App Store for new updates about the Audible app. Some applications would stop working unless you update them to the latest software version. To avoid that from happening such as Audible Download Manager not working, you have to make sure that your Audible application is updated to the latest version released.
Learn the many methods for updating the Audible app from the app store if you have an Iphone or android device.
Users of Android:
Open the Google Play Store on your Smartphone.
Select your Profile to access "My Games and Apps".
You'll notice a category called List of Upcoming Upgrades; clicking on it to discover the Audible application.
Pick Updating
Users of iPhone and iPad:
Open the App Store on your phone and login into the system.
Click on Your Profile.
To reload latest additions for the apps installed on your device, scroll down on the display to let it load.
Browse the list and select the Audible app.
simply tap Update after that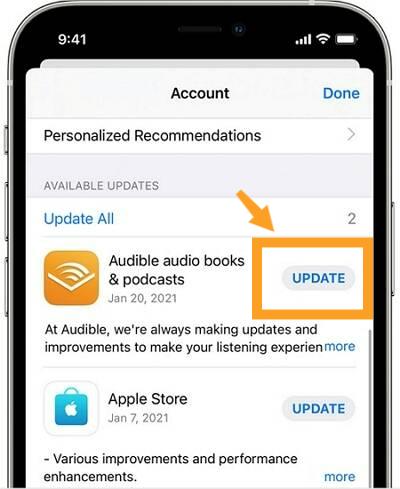 You should make sure that your app and its operating system are updated before fixing the issue of Audible Download Manager not working, this will help ensure that the problem doesn't happen again in the future.
Method 2: Modify the Download Quality
Another cause of Audible download manager not working is the download quality. Audible users can choose the quality of download files (standard or high quality). Of course, high-quality files will be bigger than standard. If your smartphone does not have sufficient memory capacity for high-quality files, audiobook files will not play.
Now, you must attempt this second approach too if the previous one didn't fix your issues. This approach entails altering the download resolution of your audiobooks. You can attempt this approach by following the instructions: Login in to your Audible app >> Tap the gear icon >> Tap "Data & Storage" option >> Choose the formatunder the "Download Quality" to change the Audible download quality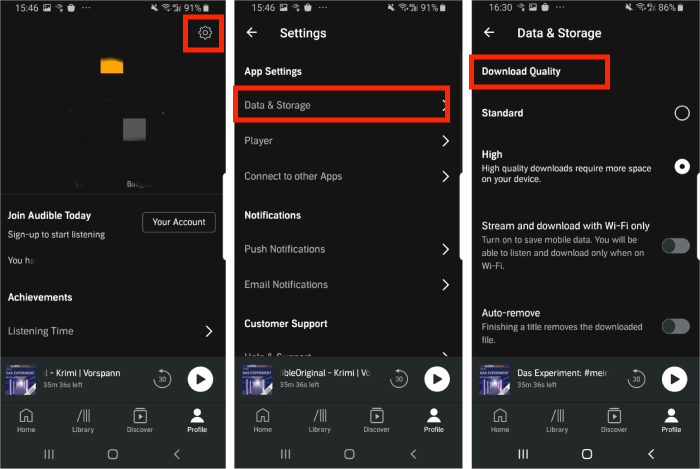 Part 3. Alternative to Audible Download Manager
However, if the solutions we mentioned above will not really resolve your Audible download manager not working issue, we are sure that it is going to work at this moment. Because this time, we'll show you how to avoid issues with your Audible app, inside the quickest and simplest method possible. This way is to use the greatest Audible converter, the Tunesfun Audible Converter.
Audible Download Manager is a great program, but it has a few downsides. First of all, it's limited to Audible files and can't convert audiobooks from other sources. It will remove the DRM protection instantly because of the fast conversion speeds. Second, it doesn't allow you to convert files into MP3s or other formats such as WAV, FLAC, AAC, AC3, and M4A.
This free tool offers everything that Audible Download Manager does and more, including the ability to convert your audiobook files from sources other than Audible. You can also remove the DRM from your protected audiobooks so that you can play them without any subscription plan on any device. With help of Tunesfun Audible Converter, you also burn the audiobook files to a CD and import them to CD player.
What's more, this software is the ability to keep the original ID3 tags and chapter information. This helps to keep essential details of the audiobook like the author, chapters, titles, and year of release. It will convert instantly because of the 16x conversion speeds and save your time.
Read the instructions below to resolve Audible Download Manager not working With Tunesfun Audible Converter:
Step 1: Downloading and installing Tunesfun Audible Converter on any Laptop or Desktop Computer.
Step 2: Launch the program and select the Add Files option. Decide which audiobooks from Audible you wish to get and transfer.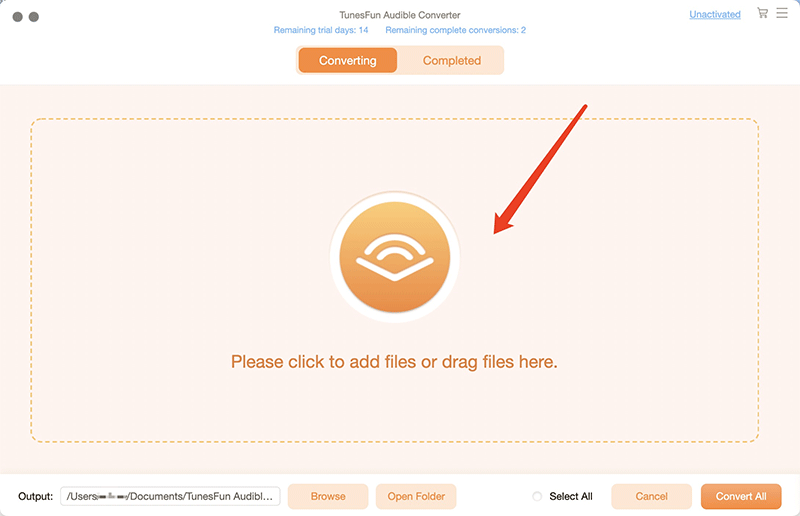 Step 3: Select an export type and a target folder for your data.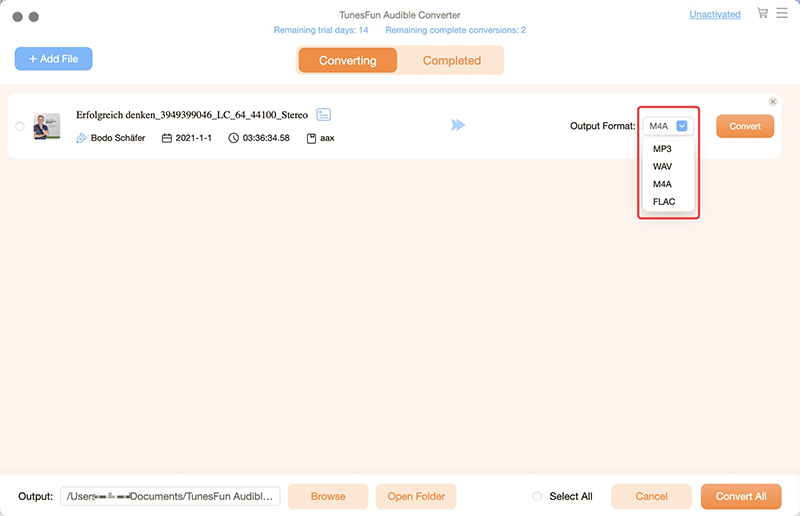 Step5: To begin the converting process, select Convert.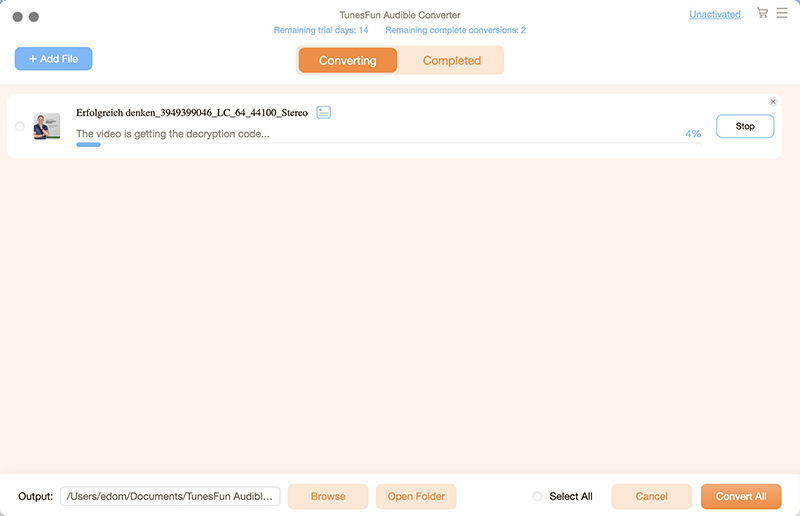 We believe that even now which you have recently understood about and have a general understanding of all the solutions you may use to solve your Audible Download Manager not working, you will be able to continue listening to your favourite Audible books without any more difficulties.
Part 4: Summary
As a result, we advocate going with the audiobooks converter because they'll be worth the money. We recommend Tunesfun Audible Converter as Audible converters. These programs are assured to be upgradeable and come with customer service.
Using this software, you will be able to share any type of Audible book with your family and friends without any limitations. Also, don't worry about the issue of Audible Download Manager not working. With the help of the Tunesfun Audible Converter, you will be able to fix your Audible Download Manager and enjoy the fun of audiobooks.