Initially, Apple Music was exclusive only to iOS users. It changed when Apple unveiled a new feature that made a noise in the digital music streaming platform just recently this year. Apple has announced that Android users now have access to lossless audio streaming powered by Dolby Atmos.
It was a big surprise for people who have android devices but are fans of Apple Music. Apple Music has been paving its way to becoming the most favored digital audio streaming provider in the spotlight.
Although it seems like the road is yet to be reached for some, other audiophiles think Apple Music is up to par with the other digital audio services used by the majority.
As incredible as it may sound, Apple Music for Android can't escape issues that trouble its users. One of which is when Apple Music keeps stopping on Android. Or simply, it's just Apple Music not working on Android in general.
For someone who can't go on a day without streaming music, it could be pretty much disappointing. But it's not like you don't have to fix it. In this post, I will guide you in understanding what causes it and how you can troubleshoot this issue without adding too much stress than it already is.
Part 1. Why Is My Apple Music Not Working on Android?
Streaming online or using an app to stream music always comes with a few glitches. Some of these problems are generic, while some are specific to audiophiles who are using Android devices. Just like iOS users, Android users also get to come across this issue with using Apple Music. Most of the time, these issues are caused by a number of factors.
Frequently, users encounter problems with their apps due to network connection complications, system glitches, or sometimes, monster bugs in your device or, specifically, in the app itself.
Aside from the things mentioned above, we should also look at other factors that may have contributed or is yet to contribute to why Apple Music is not working on Android. These things look typical, but if it gives you a piece of headache, then you can't disregard them. Listed below are few factors to consider why your Apple Music on Android doesn't work perfectly:
Unupdated Apple Music App
Damaged or corrupt system files
Android device is not up-to-date
Loaded Apple Music cache
Network Failure or Weak Network Connection
Exhausted Apple Music Data
If you happen to be familiar with the abovementioned factors, then you probably won't have too much trouble fixing the issue at hand. Keep scrolling through this post to know the critical methods how to fix them.
Part 2. How to Fix Apple Music Not Working on Android?
Understanding the elements that could be causing why Apple Music is not working on Android is one thing; the other is figuring your way out of the loophole. Thankfully, there are solutions to all problems concerning your device or the app you use.
You don't have to be a pro at it; you just have to be a little patient when doing the tasks. So, to get you started. Here are all possible roots of this Apple Music drawback.
1. Update Android Device
Check your Android device's compatibility with Apple Music. The app supports Android devices with 5.0 Lollipop OS or newer. Simply navigate through your phone's "Settings" > look for "System" > then click or tap on the "System Update" option.
2. Update Apple Music
It is recommended that you check whether or not you are using the latest and most updated version of Apple Music. If you're running an older version on your device, the app will most likely won't perform well.
3. Check Network/Internet Connection
Since Apple Music requires its users to connect to a network to have streaming access, you must double-check if you are getting a sufficient network connection. Otherwise, this could be what hinders you from enjoying Apple Music on Android.
4. Clear Cache for Apple Music
Another possible reason Apple Music is not working on Android could be because of the app's cache. Clear Apple Music's cache by launching "Apple Music" on your Android device > "Settings" > "Apps & Notifications" > "All Apps" > "Apple Music" > then, select "Storage & Cache." Then, proceed to choose 'Clear Cache."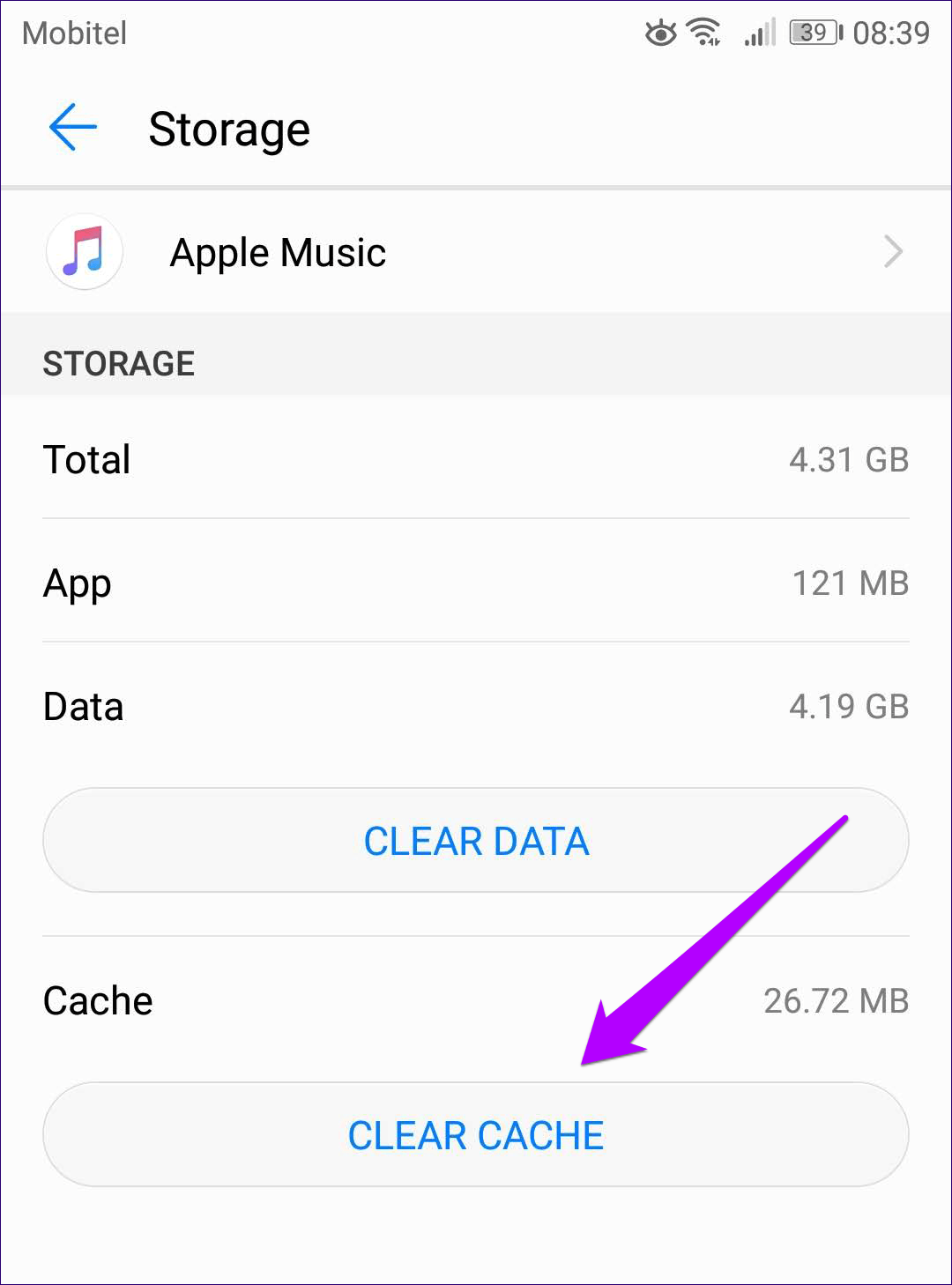 5. Clear Data for Apple Music
Another solution recommended by most users who have experienced the issue is clearing your Apple Music's data. To start, long-press on the app's icon > tap or click the "i" icon > next, select "Storage & Cache" > finally, navigate the "Clear Storage" option.
6. Force-Stop Apple Music
Force-stop is a method used by almost every tech-savvy there is. If you've already tried most of the tricks to secure for the issue of Apple Music not working on Android, then this might be the one for you. To do this, go to the "Settings" of your Android device > choose "Apps & Notifications," > then, tap on the "See All Apps" menu > find and click " Apple Music"> lastly, once you're on the Apple Music interface, select "Force Stop" and "OK" to allow the app to force-stop.
7. Restart Android Device
This step is your last resort if all the previous methods don't work for you. Refresh your Android device by restarting or shutting it down.
Part 3. An Amazing Way to Keep Apple Music Forever
If the above tips and tricks laid out for you are too much, here's the most fantastic way to get you playing Apple Music on Android without ever going to encounter any issue. TunesFun Apple Music Converter is the only solution to your "Apple Music not working on Android" woes.
TunesFun Apple Music Converter Features:
Converts Apple Music and even Apple audiobooks
Apple Music convertible to other friendly formats like AAC, M4A, MP3, AC3, FLAC, and more
Download and convert over 50 million Apple Music tracks
Lossless converted quality
Mind-blowing 16x converting speed
It doesn't remove any ID3 tag or metadata
Perfectly compatible with your iOS or Windows OS
How to play Apple Music on Android Forever:
Step 1. Avail TunesFun Apple Music Converter
Go to this link to get your TunesFun Apple Music Converter
Step 2. Import tracks from Apple Music
Select all Apple Music you want to download & convert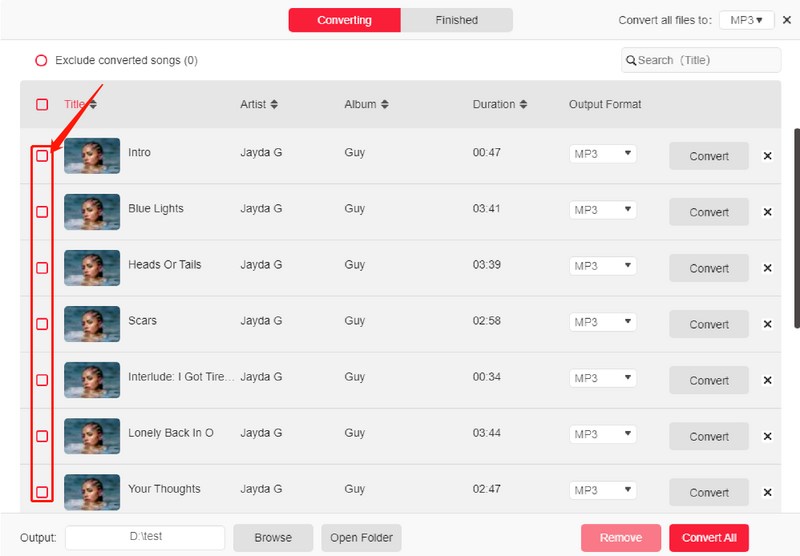 Step 3. Set the Outputs
Select the "Output Format" and "Output Folder" for your files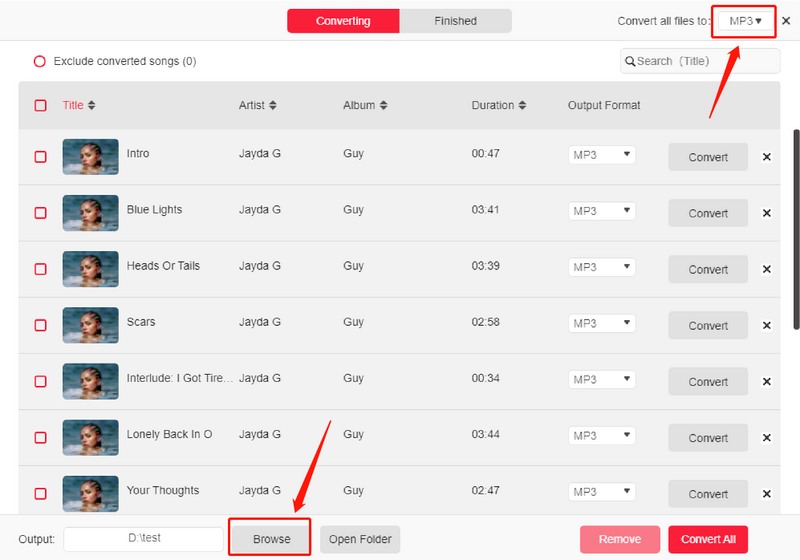 Step 4. Start Converting!
Once all previous steps are done, you're ready to convert and download your Apple Music. Click the option "Convert." When finished, you are now prepared for unlimited, no-crashing, and stopping Apple Music streaming on your Android device!