Most of us know that M4P is an exclusive format that was created by Apple to protect its songs in Apple Music or iTunes using DRM technology. If the file is in MP4 you cannot easily transfer and listen to them on any device unless it's an Apple device.
Therefore, one solution for you to play and listen to the songs that you have on any device is to convert M4P to MP3. One most important reason to consider why you have to convert these songs to MP3 is that it is a common fact that most devices like smartphone, Windows and even Mac supports this audio file format.
Once you've converted the songs in this format you can easily transfer them to any device that you have.
So, if you want to know how to convert M4P to MP3, just continue reading this post because here you will find out different ways to convert M4P to MP3.
Article Content Part 1. How Do I Convert M4P To MP3 In iTunes?Part 2. How Do I Convert M4P To MP3 Without iTunes?Part 3. How Do I Convert M4P To MP3 Online?Part 4. Conclusion
Part 1. How Do I Convert M4P To MP3 In iTunes?
Perhaps it is new or surprising to some that you can use the iTunes application itself to convert M4P to MP3 because iTunes is more commonly known for being a file manager that can be used to handle songs. But that is not only the case because you can use it to convert your songs.
So, how to convert M4P to MP3 in iTunes? To start with, iTunes must be installed on your computer, if not yet then just feel free to download it first. Once you have installed it, see the following steps below.
Launch your iTunes application on your computer.
On the main page, locate the "Preferences" option. For Windows, click the "Edit" button to see this option, and for Mac users, simply click the "iTunes" button.
Proceed to the "Import Setting" menu by clicking the "General" button which you can find on the bottom part of the screen. A new window will pop up showing an option which is in the "Import Using" menu.
Select the encoding format to which you want your Apple Music to be converted. In our case, we will use MP3.
Finally, click the "File" button, select the "Create New Version" menu and choose the "Create MP3 version" option. Note: Make sure that the Apple Music you wish to convert should already be imported on iTunes library.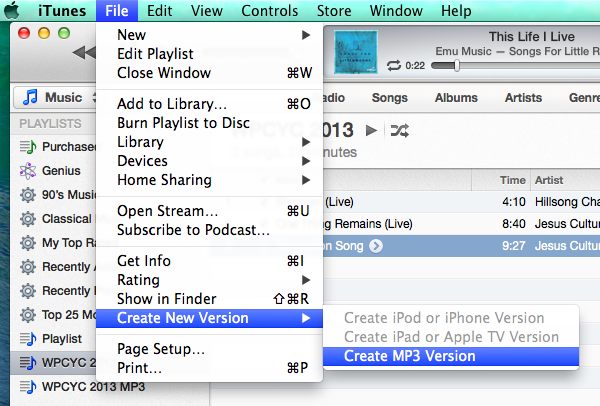 After following these steps, you can have your MP4 converted to MP3, however, there are some issues that you may encounter since you are using the iTunes application to convert Apple Music for free such as the audio quality may not be the same as the original track and it can't convert older purchased Apple Music songs because they are protected.
But don't worry because we still have other solutions for that which you will find out in the succeeding parts of this post.
Part 2. How Do I Convert M4P To MP3 Without iTunes?
I encounter this question circulating in different forums if it's possible to convert M4P to MP3 without iTunes and the answer is an absolute yes! There is this amazing tool that can help you with that which is called TunesFun Apple Music Converter.
TunesFun Apple Music Converter is a software that allows users to download and convert Apple Music songs, MP4 format music in iTunes, and even audiobooks to various formats like MP3, M4A, WAV, FLAC, AC3, or ACC. Once you have converted your songs using this professional tool, you can able to transfer them to any device and listen to them offline even if you don't have any subscription.
Moreover, this program is also known for its ultra-quick conversion speed of x16 which won't take so much of your time waiting. Aside from that, it keeps the quality of Apple Music songs that you have converted and maintains the ID3 tags and metadata of all tracks which keeps your songs organized.
You don't have to worry too if it's your first time using TunesFun Apple Music Converter because it is absolutely easy to navigate and use. If you want to try this tool, you can visit their official website and download its installer which is available for both Windows and Mac. Once you installed it, you can refer to the steps below on how to use this software.
Step 1. Selecting songs in Apple Music that you wish to convert.
Launch your installed TunesFun Apple Music Converter on your computer. Once opened, you can freely add the songs that you wish to convert. You can import as many songs as you want because this tool can process songs in batches.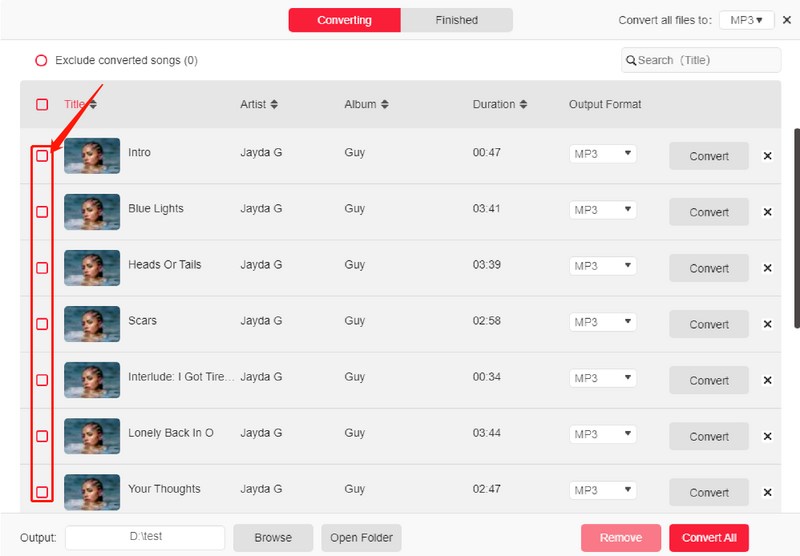 Step 2. Change the output parameters and output destination.
After selecting your preferred songs, you can now decide the output audio format as well as the output folder in which you want to save your converted songs. In our case, we will choose MP3.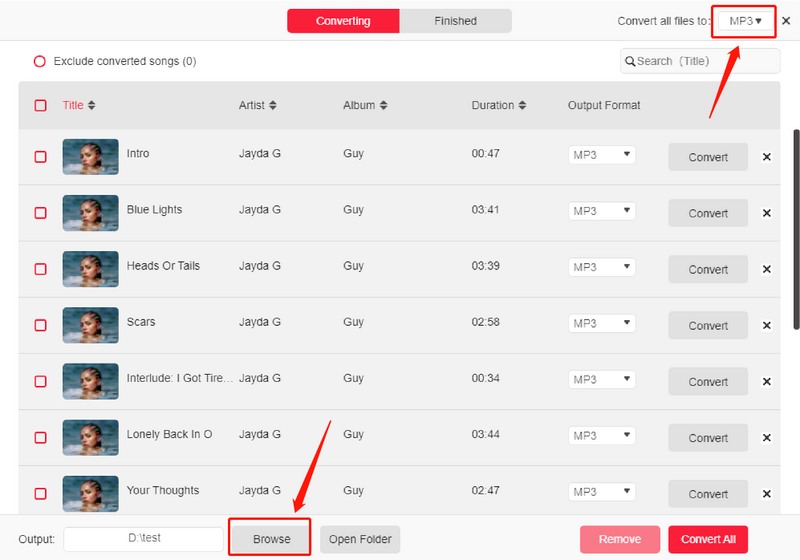 Step 3. Start convert M4P to MP3 by clicking the "Convert" button.
If everything is all set, just simply click the "Convert" button which is located at the lower part of your screen to start converting MP4 to MP3. The length of the conversion will depend on the number of songs that you've selected. Once the conversion is done, you can see the output file on the folder that you have selected in the previous step.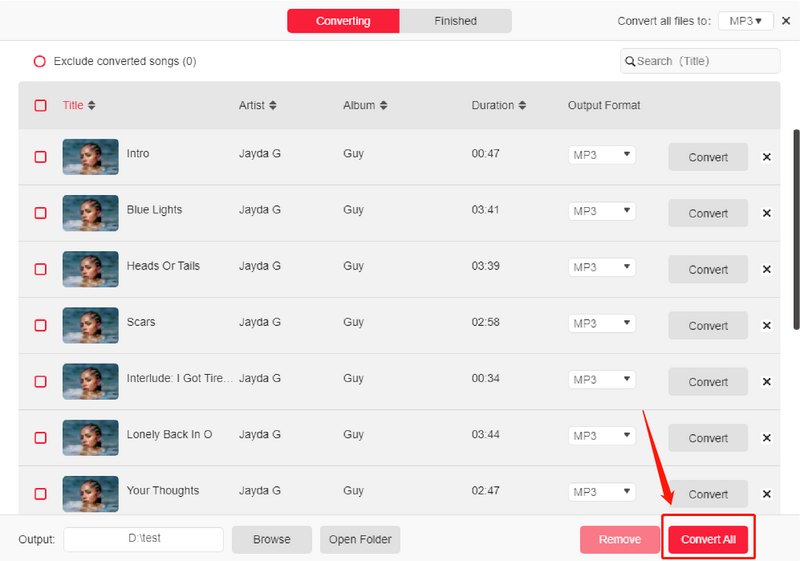 Part 3. How Do I Convert M4P To MP3 Online?
There are various ways how you can convert songs from M4P to MP3 and believe it or not they can be accessed online. I listed below some of the top converters that you can use and available online.
1. MP3Cutter
MP3Cutter is an online-based program that can convert M4P to MP3. It is user-friendly and you don't have to install it on your computer since it is a 100% online-based converter. You can use any browser as you wish when you visit its website.
Key Features
Amazon Cloud is the host platform of this tool and all files will be automatically deleted after 24 hours.
It allows you to change your target output audio format quality, fade in or out options, and bit rate.
Allows you to convert M4P files up to 20MB.
You can either use files from your local computer or using URL when uploading to MP3Cutter.
2. FreeConvert
FreeConverter is also one of the converters that you can find online that doesn't require you to download and install any software. This tool not only converts MP4 to MP3 but also converts images, videos, eBooks, and documents to any format. Moreover, it has advanced tools like image compressor, video compressor, PDF compressor, and more.
Key Features
You can convert files up to a maximum of 1GB.
It allows you to convert M4P to MP3 20 files per batch.
You can upload M4P files from your local computer or via URL.
3. FileZigZag
Another website that you can use for you to convert M4P to MP3 which is also popular is FileZigZag. Asides from songs, you can also use this online converter to convert videos, documents, images, and eBooks to any format too. FileZigZad is another converter to choose to free you from downloading and installing software.
Key Features
It is known to be 100% safe and it doesn't have malicious software.
The files that you have uploaded will be deleted after 30minutes unless you have submitted them as feedbacks and can stay until 30 days.
It can identify more than 180 different file formats and can do more than 3150 types of conversions.
You can able to convert 10 files per day up to 50 MB for free.
You can also convert files in batches.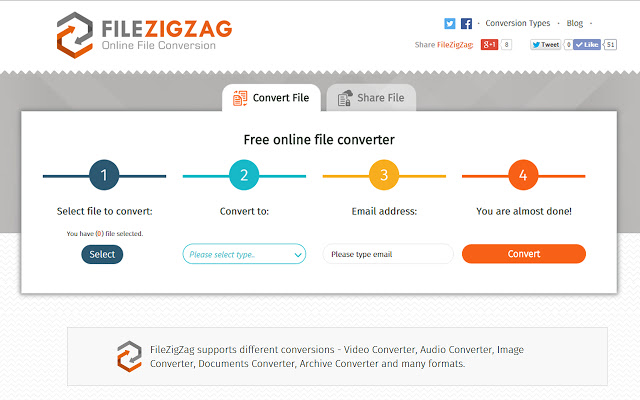 4. Online-Convert
One online converter to be considered is Online-Convert. It also one of the free converters that you can access online which can convert M4P to MP3. What's good about this converter is it also allows you to trim unnecessary files part that you have uploaded.
Key Features
You can use files that are saved in your local computer, Google Drive, Dropbox, and even URL.
This tool can extract the audio file if you uploaded a video file.
It supports many formats like audio, video, document, image. Archive and even eBook.
It also supports bulk conversions.
Part 4. Conclusion
In a nutshell, at first, it may seem impossible to convert M4P to MP3 format but after reading this post you can say that it is not difficult after all. Moreover, you discovered that aside from converting tools that you can find online, there is this amazing tool that can be handy that you can access any time which is the TunesFun Apple Music Converter.
Well, that's everything for now. I hope that you had fun learning what you have read here and apply it so that you can fully enjoy listening to your MP4 songs on any device that you have. See you on my other posts.