If you have not tried to listen to an audiobook on Audible, it would be a normal thing to wander about what to listen to, on Audible. If you also have a friend who often listens to audiobooks, it would also be a good thing if you will be influenced by it, and would be used to finding ways to access audiobooks.
In this article, we are going to share with you ideas of what to listen to on Audible. We are going to share with you some of the most known titles which be really useful in the future especially if you had an idea of listening to an audiobook offline someday. We are also going to share with you a tool that would help you easily stream and download all the audiobooks that you love so you can listen to them using any device that you have at your own desired time, and anywhere you might be.
Article Content Part. 1. Can You Find Your Interests In Audiobooks?Part 2. Is There An Alternative Way To Listen To Audible Audiobooks?Part 3. To Summarize It All
Part. 1. Can You Find Your Interests In Audiobooks?
We can find many things on Audible. In this part of the article, we are going to share with you some of the best audiobooks on Audible depending on the genres that you desire to listen to. For your reference, we have listed them below.
Self-Development
Reaching Your True Potential
If you are feeling like you are caught up in life, and you cannot find the motivation to go on, then you might find the best audiobooks about how to reach your true potential. You can find the best audiobooks from personal development experts in case you are needing a piece of inspiration.
Audiobooks About Grief And Loss
When you have lost someone, there would no easy thing that you can do to go on. It can cause mental strain for those people who are mourning, and people also do not have the same way to grieve. This is why many are having a hard time finding someone or something that they can do just to be able to overcome the loss. Well, audiobooks can be of good help when it comes to these things, they can give insights for those people who are yearning to have a support system or for those people who find it hard to cope with loss.
Meditation Audiobooks
When there are audiobooks for self-development, there are also audiobooks about meditation. Listening to such types of audiobooks can give you mental to physical help, and in case you also want to start the journey to meditation but you do not know where you should start, these audiobooks would also help. The best thing that you will also gain from listening to audiobooks are:
There are no hard and fast rules.
You do not need any fancy equipment to go on.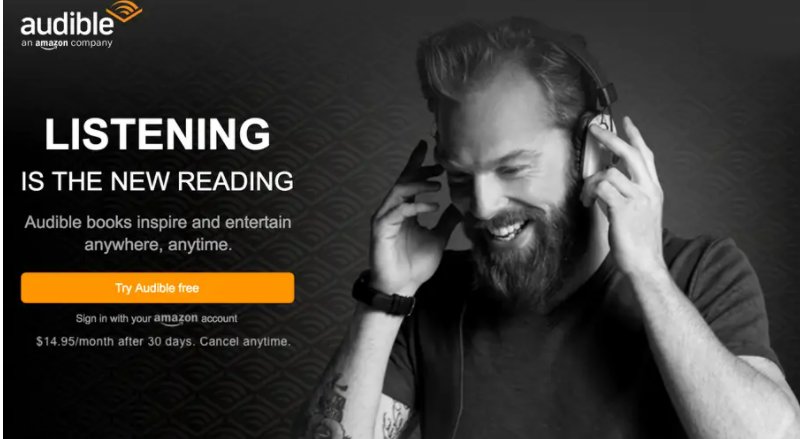 Family Books
Audiobooks For Kids
One of the many beautiful products of audiobooks is those that are dedicated to kids. This would also help if you want to provide an entertainment tool in case that you are going on a trip with your kids and a long ride is needed. Sometimes, if you also want your children to listen to bedtime stories before going to sleep, these audiobooks would also be a good tool.
Parenting Advice Books
If you know someone who is in need of some advice to manage their children, audiobooks about parenting advice would really help. These audiobooks are packed with common information and guidance from people who have already experienced many things. So, if you are totally clueless about what should you do when it comes to leading your own child, these audiobooks would help. It is also a total convenience if you are too busy to grab a book to reads.
Books For Moms
If you are a mom, you know that you are the most important person on the planet! These audiobooks will give you all the appreciation you needed, even if you are just a new mom, or a mom for decades of years. So, if you are a mom, or you know someone who is a mom as well, this would be a good recommendation!
Explore Hobbies And Interests
Travel Audiobooks
If you love to travel, and you wanted to have new inspiration for your next adventure, this audiobook could be the one that you are looking for. You can listen to a lot of vibrant descriptions of places, adventurous plot lines, and so much more in this type of audiobook. If you are a frequent traveler, or you just started your journey of being one, it would be beneficial if you would immerse yourself in a new type of environment.
Audiobooks For Foodies
If you love eating, then these audiobooks are for you! When you enjoy food, you are simply enjoying the pleasures of life. So if you are looking for cooking inspirations, or memoirs of the best cooking people you know, you would surely be satisfied with these audiobooks.
Biking Audiobooks
Do you love bikes? If you love riding and collecting bikes, these audiobooks are for you! For most people, it is motivating and energizing to read about bikes before heading out for a run! These audiobooks are giving them the energy to pump on as they explore the beauty of cities and road adventures on their own or while with a group they adore!
Music Memoirs
If you love to listen to books that talk about music, then you can try to listen to one of these audiobooks. It can also give you an idea of those music personalities that are already gone. Some of these also talk about the dark stories of the recording industry, of course, there would be stories about backstage drama, and many more. Of course, stories on charisma, artistry, and energy will also be discussed!
These are only some of the possible topics that you can find when you aim to access Audible. These are what to listen to on Audible, and there are other more topics that will surely make you enjoy listening to digital books more! Now, let us go on, and discover the most convenient way that we can be able to listen to all the audiobooks we adore.
Part 2. Is There An Alternative Way To Listen To Audible Audiobooks?
There are several ways to learn and gain information, and if you are resourceful enough, these ways can be easily turned into opportunities. Out of the many platforms we have today, we have Audible. It is considered a library that has hundreds of thousands of books that can be enjoyed by many people who love to listen to digital books like audiobooks.
Even though we want to subscribe to plans which are offered by platforms and apps like Audible, we cannot always do it, and when things like this happen we should always be ready to adopt an alternative. We can use tools like the TunesFun Audible Converter, and since it is no ordinary tool, we can do so many things with its help.
We can convert AA or AAX audiobook files to file formats like MP3, MP4, M4B, WAV, FLAC, and a lot more. These file types are a lot more flexible than file formats from Audible. So, once audiobooks are converted using the TunesFun Audible Converter, access using any device would never be a problem anymore.
The conversion with the use of the TunesFun Audible Converter is also fast and effective, the process would only take a few minutes since the conversion rate is at 60 times compared with other tools. And even if you get to convert fast using the TunesFun Audible Converter, the outputs are the best! It is even the same as the original file. And within the process of conversion, the DRM encryption will also be elicited giving freedom for anyone to download audiobooks and enjoy them for offline use.
The conversion would not also be that difficult since the interface of the TunesFun Audible Converter is also very user-friendly. The steps are also simple, and people would be impressed as well. In order to convert these files you need to: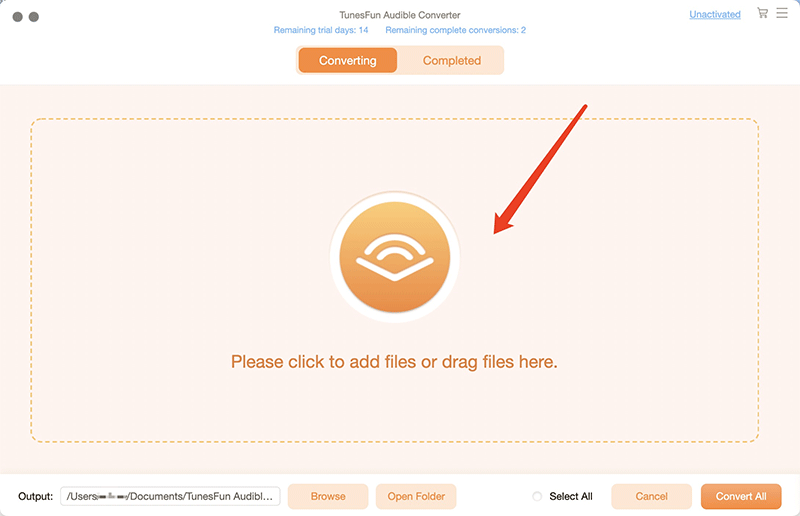 Step 1. Download and install the TunesFun Audible Converter on your personal computer. Once the tool has been successfully installed, launch it to finally add the files that you want to convert.
Step 2. Choose the format that you want, as long as it is offered by the TunesFun Audible Converter, you can have it as a result. Then make a folder to serve as storage of the files that you have finally converted.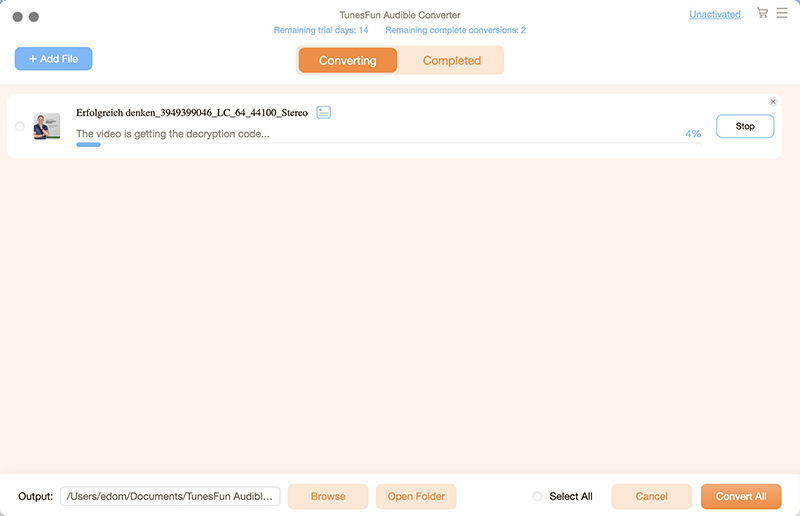 Step 3. Tap the Convert tab and wait until the process has been started. Once converted, we can finally rest and listen to all the audiobooks that we have converted.
Part 3. To Summarize It All
Now, we are able to identify what to listen to on Audible, there are other genres that this platform offers, it would also be helpful to visit the Audible site in order to look for more. Furthermore, we are also able to learn about TunesFun Audible Converter and discover how this tool can help us access audiobooks easier than we have ever imagined possible.