At the end of the year 2021, Spotify have more than 400 million active users globally, and nearly half of them are paid users. In the whole music streaming industry, Spotify is the king and took around 31% of the market. People like Spotify for some solid reasons, it got an enormous music library and keeps updating in time, and the app got decent UI and a great user experience.
It is one of the best music streaming apps you can find, however, everything is not perfect. Both free and premium users are limited in some way. For example, people wanted to convert Spotify to MP3 because the default format of Spotify files is encrypted and limited. Downloaded songs can only be played on the Spotify app even for premium users.
What if I want to play my Spotify music offline on another device like my car? It is quite a problem. Well, this article is about to show you how to convert Spotify to MP3 and all the related problems. Keep reading and see if this help.
Article Content Part 1. Can I Export Spotify to MP3 Directly?Part 2. The Best and Most Recommended Way to Convert/Download Spotify to MP3Part 3. Summary
Part 1. Can I Export Spotify to MP3 Directly?
The straight answer is no. As a music streaming service provider, what Spotify actually offers is a rental service. This means those music files are not yours, you only rent the right to use them. Although the whole process is legit, it is a bit unfair for users.
Spotify songs can only be downloaded by premium users, and the files are encrypted and not in any regular format. This means they can only be played on Spotify with your account logged in. In addition, users need to go online every 30 days to keep their downloaded songs, which means those downloaded songs you wanted to listen to offline, will disappear after 30 days.
For Spotify Free users, situations are much worse, they are locked with the shuffle play mode, and can only skip songs 6 times every hour. Spotify Free users basically cannot download anything from Spotify, except some official playlists supported by Spotify itself.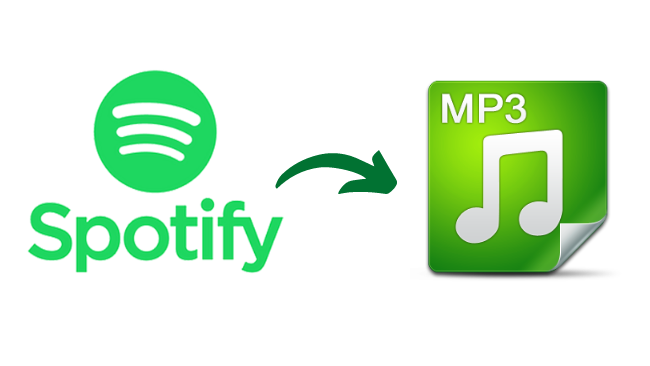 It is understandable that users wanted to download their Spotify songs to MP3 for offline situations because it happens every day and Spotify doesn't seem to put much effort into this problem.
Well, let's go back to our topic today, Spotify to MP3. Spotify cannot do that for you, if you want MP3 format songs and play them unlimited, you need a Spotify Music converter. We reviewed many converters online, and we will introduce you to the most recommended one in the next part.
Part 2. The Best and Most Recommended Way to Convert/Download Spotify to MP3
Why You Should Choose TunesFun Spotify Music Converter
As we mentioned above, it is impossible to get MP3 files from Spotify no matter you are a Premium user or a Free user. Well, it's 2022 now, and there are many ways to solve this problem. After we investigate many website converters and software converters, we found one that we recommended the most. The TunesFun Spotify Music Converter.
Among all those Spotify to MP3 converters, TunesFun Spotify Music Converter is one of the most reliable Spotify playlist to MP3 converters. Both Premium and Free users can use this software to convert Spotify songs, playlists, albums, podcasts, and tracks to usual formats like MP3, FLAC, WAV, and M4A. Not to mention the drag and drop UI makes everything much easier.
There are some key features of this Spotify to MP3 converter that makes it outstanding among all these kinds of software.
It can easily download and convert single or batches of songs/playlists/albums from Spotify
The downloaded and converted files are keeping their original sound quality and ID3 tags (which are artist name, album name, and song title that kind of information).
It can convert Spotify songs to many common formats, such as MP3, FLAC, M4A, and MAV. And in the advanced setting, you can even customize the bit rate for the conversion.
It will remove advertisements from Spotify.
You get lifetime technical updates and customer services.
Generally, if you are looking for a solution to download or convert your Spotify songs to MP3, TunesFun Spotify Music Converter is a great option. It is easy to use and it downloads songs to MP3 from Spotify straightly, so no risk of viruses or anything like that.
How to Use TunesFun Spotify Music Converter
If you got a nice first impression on TunesFun Spotify Music Converter and are interested in it, you can keep reading and we will have this Spotify to MP3 converter demonstrated for you.
Step #1. Download, Install and Launch
TunesFun Spotify Music Converter supports both Windows and Mac operating system, download the right version, and install it. Launch it, and log in to your Spotify account, doesn't matter if you have Spotify Premium or not, it works the same.
Step#2. Select Songs
After you logged in with your Spotify account, you are looking at a normal Spotify Web Player except there is a little green bubble at the right bottom. It is the magic button to help you convert your songs, drag your desired song/playlist/album right to this bubble to start converting them to another format.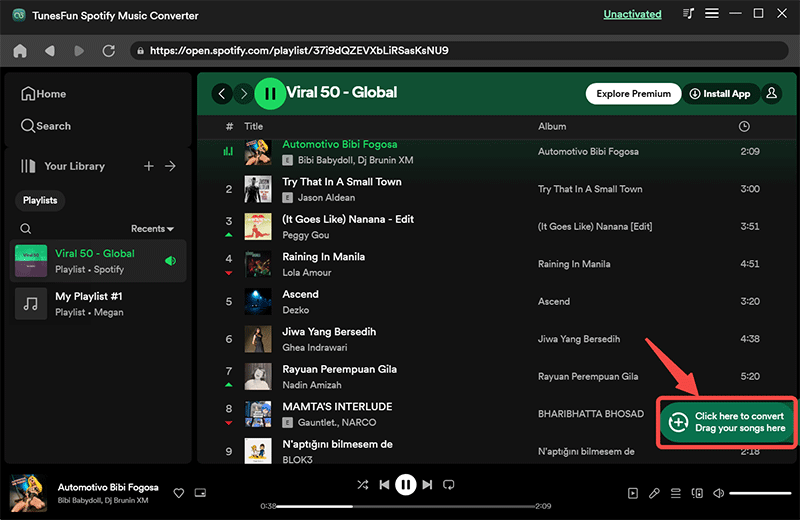 Step#3. Choose Output Format and Location
After you dragged your songs to the green bubble, a new window will pop up. At the top-right part, you can choose what output format you want, in default it is set to MP3. At the left bottom, set up your output path to receive your converted music file. In the advanced setting, you can also adjust the Bitrate and Sample rate.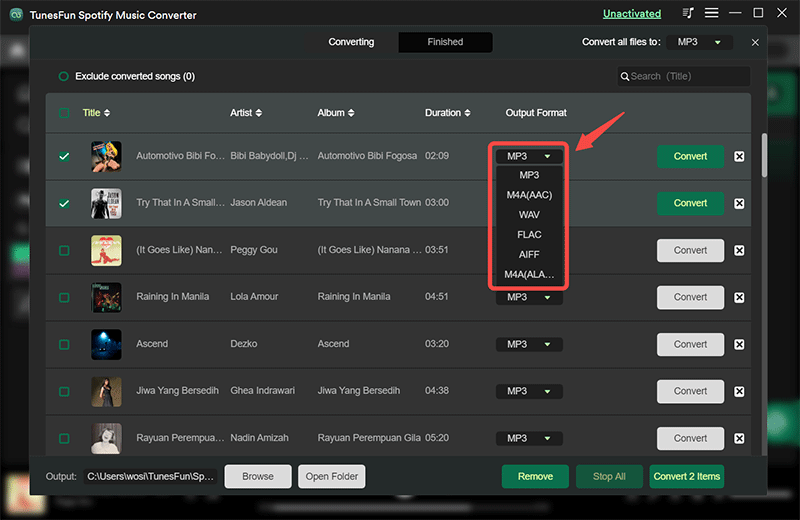 Step#4. Start Conversion
If you are done with the format choosing, you can simply click the convert all button to start the batch conversion, or you can click the convert button at the end of every song to convert that specific song.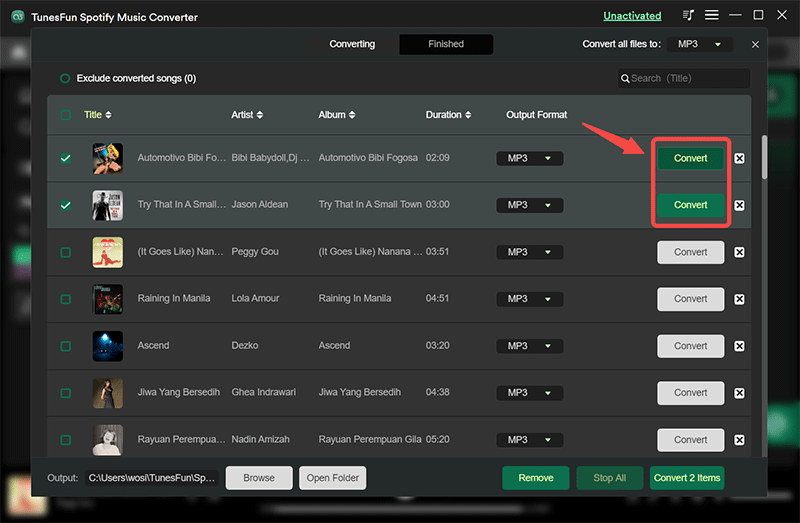 When the conversion is finished, you can find the converted file in the specific folder that you choose. This Spotify to MP3 process has made this music file completely free to use, you can gather your converted songs and burn them to CD, and make your own album.
Part 3. Summary
The topic of this article is about downloading or converting Spotify to MP3 format. Firstly, we explained the situation that users are facing in downloading Spotify songs with Spotify itself. Then we provided a solution for this issue, TunesFun Spotify Music Converter, we talked about its key features and gave detailed instructions on how to use it. Generally speaking, if you are struggling with how to convert your Spotify to MP3, we hope we have provided a proper solution for you.