Spotify Premium is a music streaming service that offers unlimited access to millions of songs, high-quality audio and video, offline listening, and an ad-free experience. Spotify offers two subscription plans: free and paid. The free version does not charge any fee and allows you to listen to all the music in the Spotify library online, but it still has many limitations, such as advertising interference when using it, the sound quality is not the best, and the songs cannot be played offline.
Avoiding these restrictions requires upgrading your account to Spotify Premium, which requires an additional monthly fee. However, it is might be a little bit expensive for you to afford the Premium subscription fee for years ($9.99 per month). But there are some available workarounds that can help you such as downloading a hacked Spotify APK.
For your interests, we will introduce you to the best way to hack Spotify Premium. Also, we will share with you more alternative ways to get Spotify Premium free. Let's learn more about them below.
Article Content Part 1. How do I get the Hacked Spotify APK?Part 2. How to Get Spotify Premium for Free via Family AccountPart 3. How Can I Get Spotify Premium for Free Forever?Part 4. Summary
Part 1. How do I get the Hacked Spotify APK?
You can also use hacked Spotify APK if you're looking for a way to get unlimited music from Spotify. So check out our guide now! Hacking Spotify Premium allows you to download and listen to any song on Spotify for free. For a hacked Spotify version on computers and devices, there are numerous choices. In this part, we'll tell you Well about Spotify Premium APK.
Nowadays, we'll look at the differences between the authorized Spotify mobile applications and the Spotify Premium APK. Let's take a look at the current pricing of Spotify premium: Individual Plan for only one person at $9.99 per month, Family Plan is priced at $14.99 per month, Student Plan is priced at $4.99.
Spotify Premium APK is a modified version of Spotify premium, which unlocks all the restrictions that comes with a free version. In addition, Spotify Premium Mod Apk is ads-free and safe to use without any subscription or limitations. This hacked Spotify APK should be your best alternative.
Methods for setting up free Spotify premium
Before you download modded Spotify APK, you must remove the Spotify app first if you already have the Spotify app installed on your phone.
Ensure you have that much storage capacity on your phone or stable internet access - this same software is estimated 35 megabytes in size.
open the web browser and search for "hacked Spotify APK" and choose one to open from the search results such as Spotify Premium APK. Click the Download button and wait for it to be downloaded. Generally, you will see a warning if you use a web browser. Click OK to accept it.
Browse towards the "downloads" segment of your smartphone. When you click on the Spotify Premium APK download document, Spotify Premium APK will be set up. When the setup is done, press "yes" as well as allow time.
As soon as you consent, you ought to go back to the setup display as well as restart the process. You will have two choices just at bottom of the display after that last software set-up. Activate your Spotify Premium Free Edition by clicking the "Open" button.
Enter your Spotify username and password.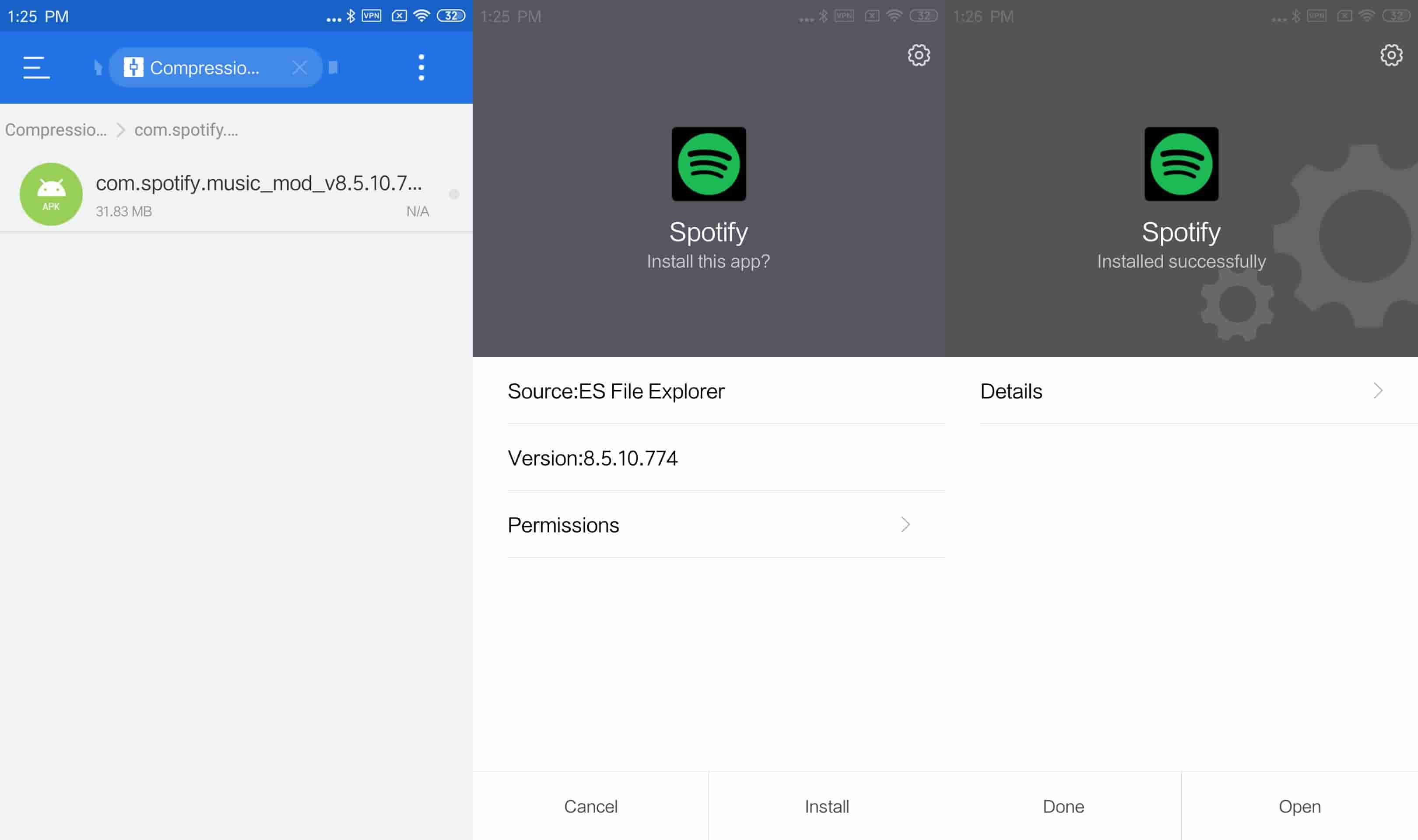 After logging in, Spotify Premium APK is going to be successfully installed. The best thing about hacked Spotify APK is that it will allow you to access your favorite music anywhere and anytime. You will be on Spotify Premium-free forever without paying a dime!
Part 2. How to Get Spotify Premium for Free via Family Account
Despite the advantage of the hacked Spotify APK, downloading hacked APK is still not safe. For one thing, hacked APK may risk your device. By default, Android does not allow you to install apps from outside Google Play Store for safety(for iOS users, download apps from Apple Store) because your device is more vulnerable to attack when you allow apps installed from unknown sources and your personal information may be stolen if you're unlucky.
For the other thing, due to its terms and services, Spotify may suspend or permanently ban your account if it detects abnormal activity on the app. It's not just losing all your playlists and personal data. You had better find a safe and legal way to enjoy a Spotify premium for free.

If you're looking for ways to get Spotify Premium for free, you can join someone's Spotify Family Plan. To receive Spotify Premium for unlimited in this situation, set up a family acct. You could indeed request an invitation from a family member or friend who subscribes to the Spotify Family Plan, so that you can get Spotify Premium only with a low price like $2 per month. Alternatively, you could track down 5 Spotify users and see if they'd be inclined to enhance to something like a family plan. All parties could save funds using this technique.
But the premise is you have a family member or a friend who will help you. And there's one disadvantage, you'll get a family-mixed playlist that includes all the music played by the members of this family plan, including yours. That means a little lack of privacy but you saved the money. It is safer than downloading a hacked Spotify APK.
Part 3. How Can I Get Spotify Premium for Free Forever?
Spotify is a great music streaming service, but it's not free. You have to pay for Spotify Premium in order to listen to all of your favorite songs. But is there a way to get Spotify Premium for free forever? There are some ways that can help you get Spotify Premium for free forever without paying anything. You are not required to install or download such hacked Spotify app to listen to Spotify music. There are several converters you can utilize to accomplish this, but one of the most well-liked choices is indeed the TunesFun Spotify Music Converter.
With the help of this TunesFun Spotify Music Converter, you can easily remove the DRM protection of the Spotify songs you wish to download and convert Spotify songs to MP3, WAV, or FLAC. What is more amazing is that the conversion process is lossless and that the ID3 tags and metadata information of the songs will be kept and maintained. It is simple to obtain this same music as Spotify's exact audio with this program.
TunesFun could indeed create high-quality audio for streaming music. Reduce the barriers to fun because then folks could indeed listen to their favorite tunes wherever and whenever they want. Love music, and have a good time.

It's easy to use and has a user-friendly interface You don't have to download anything or install anything on your computer—you just go to their website and log in with your username and password, then choose which one you want to convert. That's it! You don't even have to leave the site or do any loading times—the whole thing happens within seconds!

Following are instructions for using TunesFun Spotify Music converter.
Get the app and make sure to install it on your computer successfully.
Run the app once installed. On the main page, you shall see this "Open the Spotify Web Player" button right away. Tap this to see Spotify's homepage. You will need to enter your Spotify account credentials to continue.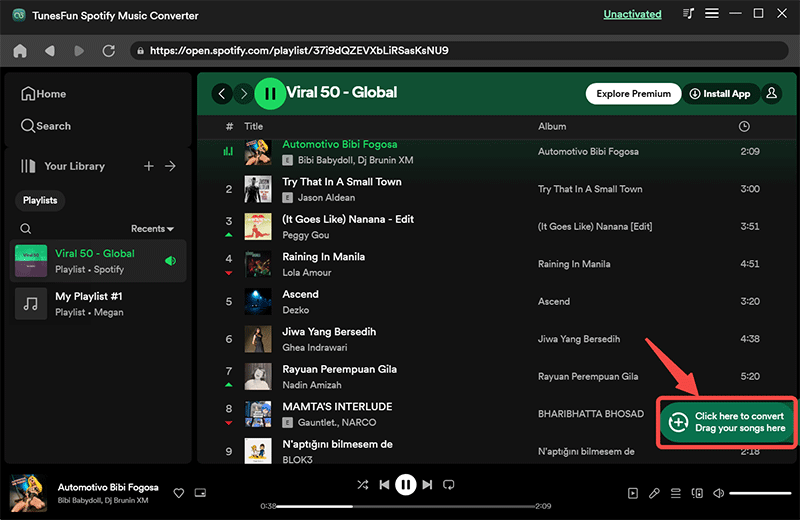 After successfully logging in, you can now start choosing the Spotify songs and playlists that you would want to convert and download for offline listening. Selecting a bunch of songs is possible (in case you find the need to do so). After the selection process, have those songs dragged and dropped to the green sidebar button on the screen.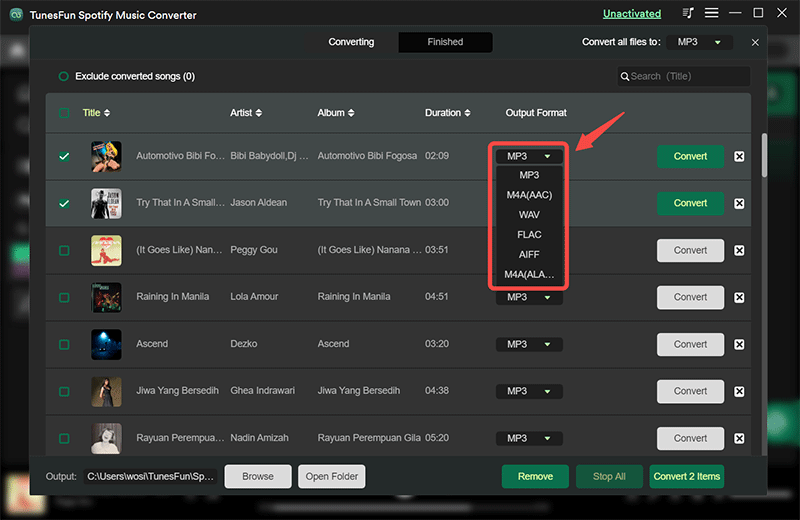 As previously mentioned, you can personalize the output setting parameters. Once songs are imported, you can now change the output settings as intended. Make sure to set up the output format as well as the output folder for easy access after the conversion process.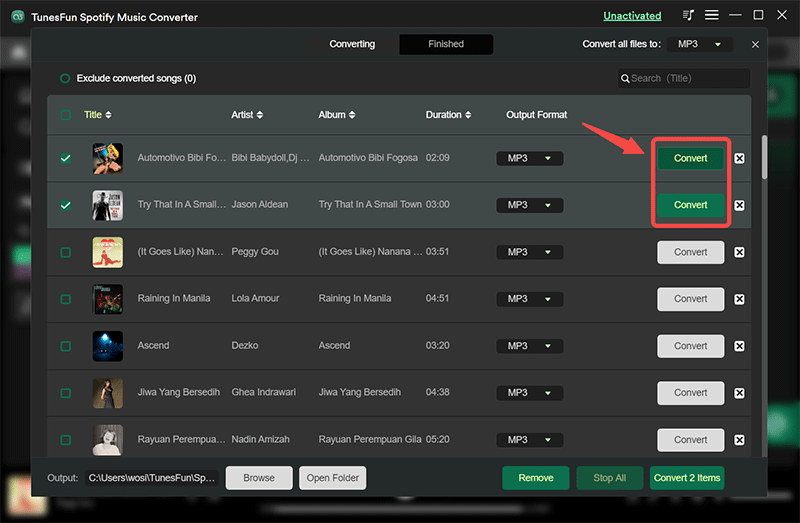 Once you are satisfied with the setup, just tick the "Convert" button and you shall see how the app will do the transformation of the imported Spotify songs to the designated output format. The DRM protection removal process will also be done simultaneously.

If you want to listen to Spotify without ads and get unlimited access every month, then we recommend using TunesFun Spotify Converter. This tool will let you convert any music from Spotify into MP3 files so that they can be played anywhere on any device, you can listen to Spotify offline.
Part 4. Summary
So, you want to get Spotify Premium for free forever? What's the solution? There are tons of ways, one of them is downloading hacked Spotify APK, but it is not uncommon for modded files to have malicious code. Honestly, with no specified sources, it's very likely that the modded APK has a virus.
None of the solutions are as simple or cost-effective as TunesFun Spotify Music Converter. This software allows users to convert their music from free Spotify accounts into MP3 files that can be used on any device with an MP3 player installed. That means no more struggling with slow internet speeds or unreliable conversion software; just a simple process that will let you enjoy your favorite songs without having to pay for premium access!