We cannot argue how popular and trusted the Spotify app is. With the number of benefits, it can offer to its subscribers, there is no doubt that the number of people using the app continuously increases day by day. Are you also one of the people in love with the Spotify app? Have you ever heard about Spotify music converters?
With limitations that Spotify has set, the only way you can do this is to seek help from a Spotify music converter that can aid in both the conversion and DRM removal processes allowing the downloading of the songs to happen and the forever keeping of Spotify songs on your devices.
The only dilemma here is the assessment you need to do to choose the best Spotify music converter to use. It is hard to find out which type or what Spotify music converter you shall use. But we will help you with this through this article.
Article Content Part 1. Different Types of Spotify Music ConvertersPart 2: Most Recommended Spotify Music ConverterPart 3: Summary
Part 1. Different Types of Spotify Music Converters
In this portion, we will be focusing more on the different types of Spotify music converters that you can check out and choose from. There are actually a lot of types, and we will be discussing three here.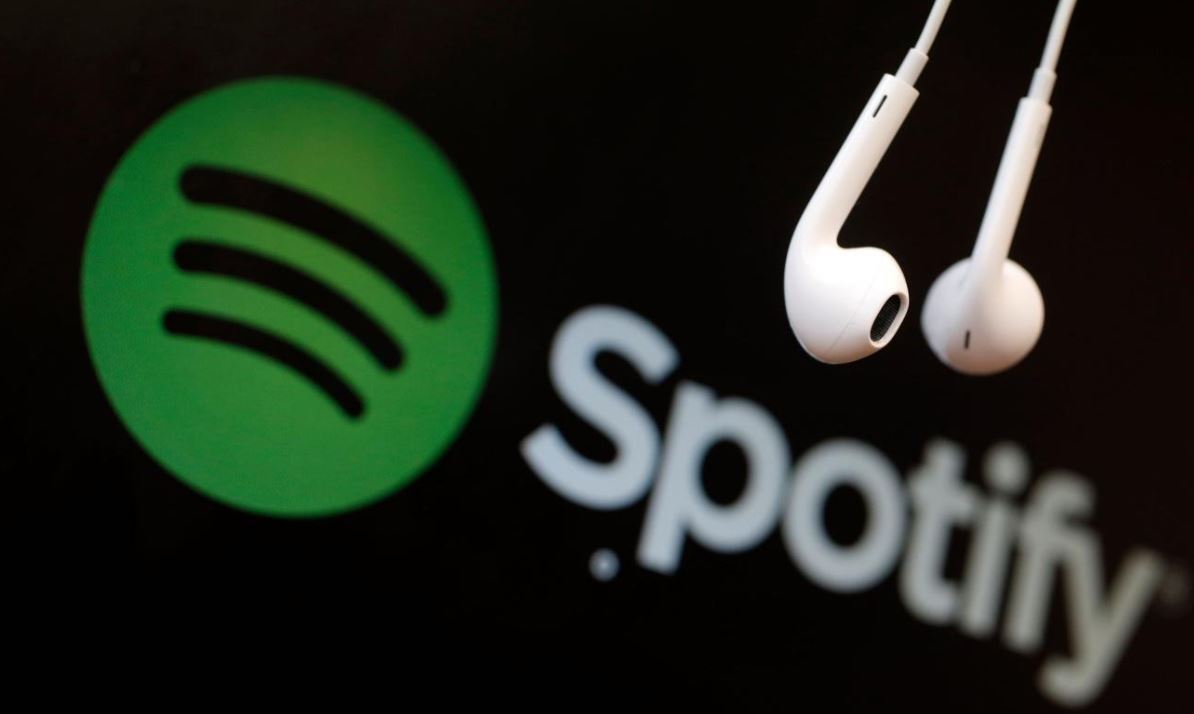 #1. Website-based online Music Converter
The first type of Spotify music converter that we'll share more about is this "Website-based online music converter". This is actually the easiest to access and handle since you basically just need to upload the Spotify songs to process, choose an output format to use during the conversion, and then download the converted files after the transformation is over.
The advantage of using it is that they are convenient and are free to use. It is just as simple as importing a file to process and then waiting until it's over. Again, this type of Spotify music converter is free of charge. Thus, you shall expect some drawbacks along the way while using them such as pop-up ads and more.
The use of Website-based online music converters is actually fine especially if you are only to do the conversion process one time. However, if the conversion activity will be habitual, you should know about the reasons why some users tend not to rely on such Spotify music converters.
Here are the common reasons for some Spotify users.
There is a need to have a Premium Spotify account to download songs for offline listening. However, you still can't save them forever.
There are some Website-based online music converters that are dangerous and might cause malware or virus attacks to your computer – that could possibly damage your files and a personal computer or worse, might cause the leakage of your personal information.
These Website-based online music converters are only capable of processing the conversion of unprotected Spotify files and songs. A reliable Spotify music converter should have the ability to process the conversion of DRM encrypted Spotify songs and keep their ID3 tags as well as original quality.
The "Conversion Failed" error always occurs. Failure rates during conversion always happen. Thus, your time during preparation and processing could all go to waste.
Again, if the conversion process only needs to be done once, using such Spotify music converters could be fine but, of course, with the above four things mentioned, such online Spotify music to MP3 converters can't be considered the best when it comes to the conversion job.
#2. Offline Music Converter
Another type of Spotify music converter is the "Offline Music Converter". From the name itself, such converters do not depend on internet connection. Thus, you can have them used offline. With this, to use them, there is a need to have the Spotify songs downloaded first. Offline music converters are definitely better than online converters since some of them aren't free. However, you will be paying twice as you need to pay for the converter and, at the same time, for a Spotify Premium plan to get the songs.
Both types of Spotify music converters presented here somehow are good especially if you are to use them only once or twice. However, if there is a need for you to perform the conversion multiple times, and you are into making sure that you only get the best output files, then relying on them is not enough. In this case, you need to look for a Professional Online Spotify Music Converter that is recommended by a lot of users. Such converters have lots of perks and advantages to offer and ensure the completion of the job at a 100% success rate.
Actually, we will be tackling the best professional online Spotify Music Converter that you can try checking and using, the TunesFun Spotify Music Converter, in the next part of this article. Jump into the next section to find out more about this professional Spotify music converter.
Part 2: Most Recommended Spotify Music Converter
We know that you'll rely a lot on the web every time there is a need for you to check something or look for recommendations. To lessen the burden on your side when trying to find the best Spotify music converter to use, we are suggesting this TunesFun Spotify Music Converter. Well, it's a professional Spotify converter and Spotify songs downloader that totally differs from the other apps. Find out why this converter stands out.
TunesFun Spotify Music Converter has the ability to do the DRM removal procedure in just minutes allowing you to access the Spotify songs on any device and media player and keep them forever.
It supports converting your Spotify songs to common formats like MP3, FLAC, WAV, M4A, and more allowing more flexibility to stream the songs. It is one of the best tools to convert Spotify to MP3 for free.
Even if you are to process the songs, you can still keep their 100% original quality, ID3 tags, and even the important metadata information. With a speed of 4x faster than any other Spotify music converters, you can have the converted files readily available after some time.
It even has advanced features that you can enjoy. It's multi-language and has output settings that are customizable.
The app is easy to use because it has this drag and drops feature that allows more convenient uploading of songs. You can even convert a bunch of songs in one go as this can support batch conversion.
The functions of the app are totally user-friendly and the needs when it comes to installation are only a few.
Now, here's the detailed procedure of how to use the TunesFun Spotify Music Converter to transform your Spotify songs.
Step #1. Complete all the installation needs and then install the app on your PC. Launch it once ready and then choose the "Open the Spotify Web Player" button to see the Spotify login page.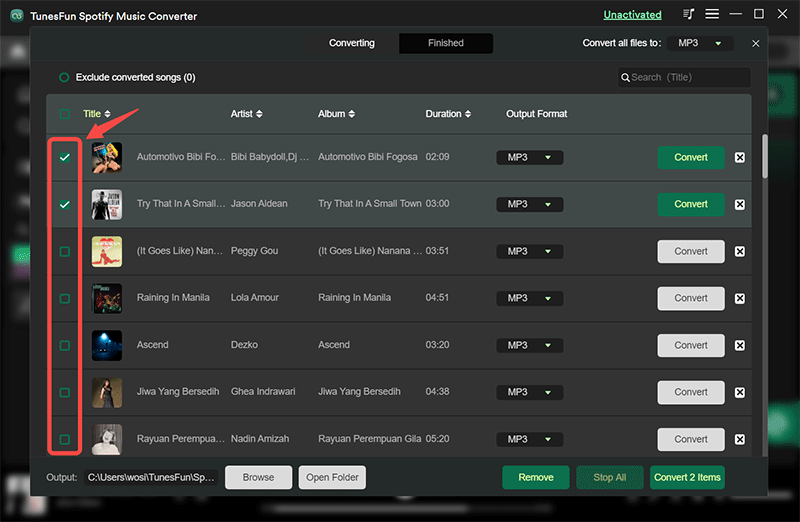 Step #2. Provide your Spotify credentials to log in and then start choosing which songs to convert. Drag and drop them to the green sidebar button that you shall see on the screen.
Step #3. Choose an output format to utilize and make sure to modify the output settings as intended.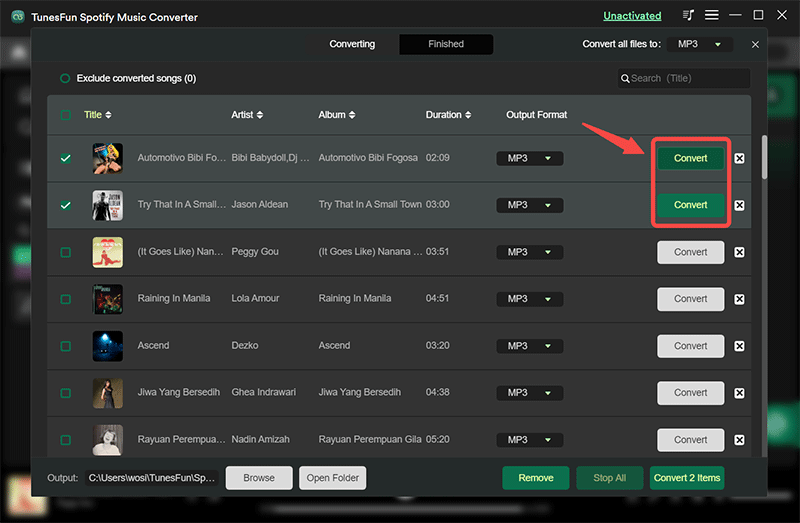 Step #4. Tap the "Convert" button once the setup has been finalized. By then, the app will start converting the Spotify songs imported and then remove their DRM encryption.
This TunesFun Spotify Music Converter is a professional converter and so, it's a paid one. Though you'll spend some penny on such a converter, that would be so much worth it because of the advantages you can actually enjoy from using it and listening to Spotify music offline.
Part 3: Summary
Now that you learned about the types of Spotify music converters that are available for you to use, which one do you think is the best? Well, we bet you'll be using the TunesFun Spotify Music Converter. Go ahead! As we have stated, this is actually an app we truly recommend using because of the many advantages you can get from it.