Spotify is one of the best music streaming platforms that are also offering several subscription tiers to its users. One can enjoy the amazing perks of being a Spotify Premium member once he subscribed to one of the paid plans and agreed to pay the monthly subscription fee. Those users who aren't into paying or can't afford the fee, can alternatively, enjoy the free version of the app with, of course, several restrictions present.
Now, if you wish to enjoy using Spotify premium free, you can check out the trial offer that's being given by Spotify to first-time users. But the free trial has a time limit. Most of us would agree that at times, paying the Spotify subscription fee could bother some. If you still want to enjoy Spotify free within a much longer time, then you should be noted what we have in this article.
It would surely be helpful for everyone to find out a guide that would showcase how one can fully get Spotify premium free without paying that much cost. This isn't actually a problem at all. We've got bunches of methods to discuss here!

Article Content Part 1. Comparing Spotify Premium and Spotify Free VersionPart 2. Easy Ways to Enjoy Spotify Premium for FreePart 3. The Best Way to Enjoy Spotify Premium Free ForeverPart 4. Conclusion
Part 1. Comparing Spotify Premium and Spotify Free Version
Unlike other music streaming apps, Spotify has been very generous to its users because it has a free version. The free version of the app lets one listen to and access Spotify's library without asking for subscription fee. However, since the service is free, there are some limitations and restrictions present.
Being a free Spotify user, you shall experience ad interruptions. More so, you don't have the ability to enjoy the perks that are only exclusive to the paid users such as the feature to download and listen to the songs in offline mode. Stable internet or Wi-Fi network is needed for playing songs well. The number of skips free users can use is only limited to 6 per hour and the songs you'll listen to in a playlist are in shuffle mode – you don't have the power to choose which one to listen to.
The Spotify Premium account users, on the other hand, of course, have bunches of perks to enjoy. Offline streaming, unlimited skips, ad-free music experience, and a lot more. However, a certain fee is associated with the account depending on the chosen plan. Spotify has 3 subscription tiers – an individual plan (9.99 USD per month), a family plan (14.99 USD), and a student plan (that's priced at 4.99 USD).
One of the best advantages that people consider upon getting a Spotify subscription plan is the ability to download the songs and listen to them without an internet or cellular data connection, which, indeed is good. However, users should also remember that these downloaded tracks will all be gone the moment their subscriptions end or are canceled as well as if they won't be online at least once every 30 days. Once the songs are gone, there is no way to retrieve them but to download them again which is tedious!
With the above, given that Spotify Premium account owners have several perks, there are still limitations present. Thus, we can't blame them if they are also one of those (alongside the free version users) who are seeking ways to get Spotify premium free forever. Fortunately, there are several methods one can try. Let us get into checking them one by one by jumping into the second part.
Part 2. Easy Ways to Enjoy Spotify Premium for Free
We will be discussing some ways here for you to enjoy Spotify premium free.
Use Spotify Official Free Trial Offer
As we have mentioned, one of the ways for you to enjoy Spotify premium free is to check out the free trial offered by Spotify. Recently, Spotify announced an extended trial for free users and newcomers to the streaming service. First-time subscribers and those using Spotify for free can get three months of Spotify Premium for as little as $0. The offer will be available for grabs until September 11, 2022. We will be explaining a tutorial on how you can enjoy this using your computer or Android device.
Get Spotify's Free Trial Offer on your Windows PC or Mac
We have here a complete step-by-step guide on how you can finally get Spotify free for three months on your Mac or Windows PC.
Step #1. On your computer's browser, head to Spotify Premium page. There you will be presented with the various free trial options available in your region. Click the "Get 3 MONTHS FREE" button.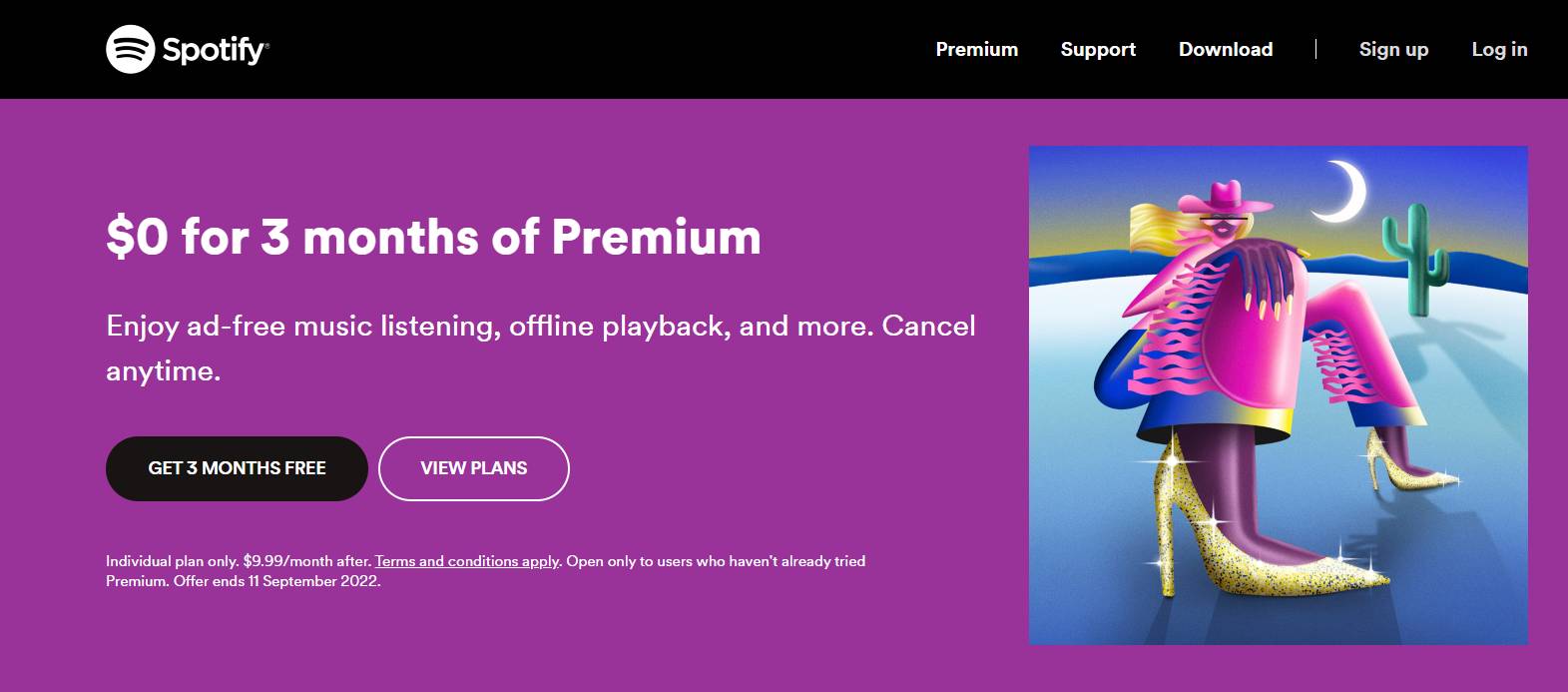 Step #2. You'll be redirected to a page asking you to sign into your Spotify account (provided it's a Free account). If you don't have one yet, you can just easily sign up and create one.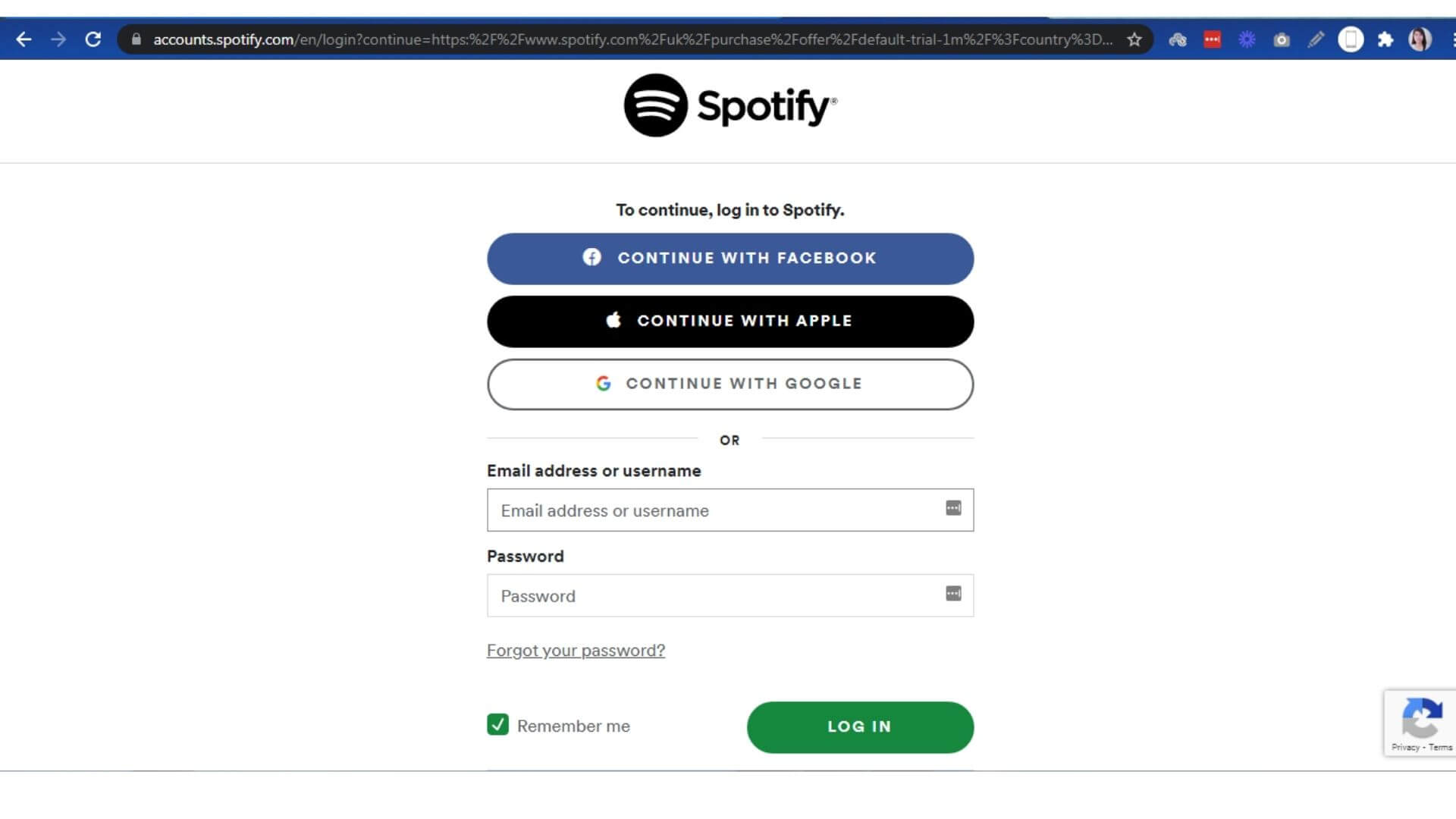 Step #3. A payment details form would be needed to be filled out. This includes your payment details. You are required to fill out the necessary information to proceed. Upon accomplishing this, tick the "START MY SPOTIFY PREMIUM" option next.
After finishing the above 3-step procedure, you shall be able to enjoy Spotify premium free for 3 months using your Spotify account. You can have this canceled anytime you wish to. Just remember that if you failed to cancel this before the end of the trial period, you will be charged the fee corresponding to the plan you chose (and your account will automatically switch to a premium one) and you would need to pay continuously until you have your premium subscription canceled.
Get Spotify's Free Trial Offer on Android Device
As mentioned, we will also be sharing here the tutorial on how you can get Spotify premium free using your Android device. You can just follow the below procedure.
Step #1. On your Android device, just launch the Spotify app. Log into your account with your account credentials or create one if you don't have one yet.
Step #2. Tap the "Premium" button on the bottom of the Spotify interface. Then drag the page down and you can see the details of the Premium Plans. Or you can directly click "GET PREMIUM", and Spotify will open the purchase page for you.
Step #3. Choose your mode of payment, input the necessary details. Finally, finish off by hitting the "Start my Spotify Premium" button.
The same thing with doing it on your PC, if you would not be able to cancel this before it ends, you will then be charged a fee that you would need to pay afterward. If you cancel the subscription a day or more before it's set to renew, you won't be billed for the next month.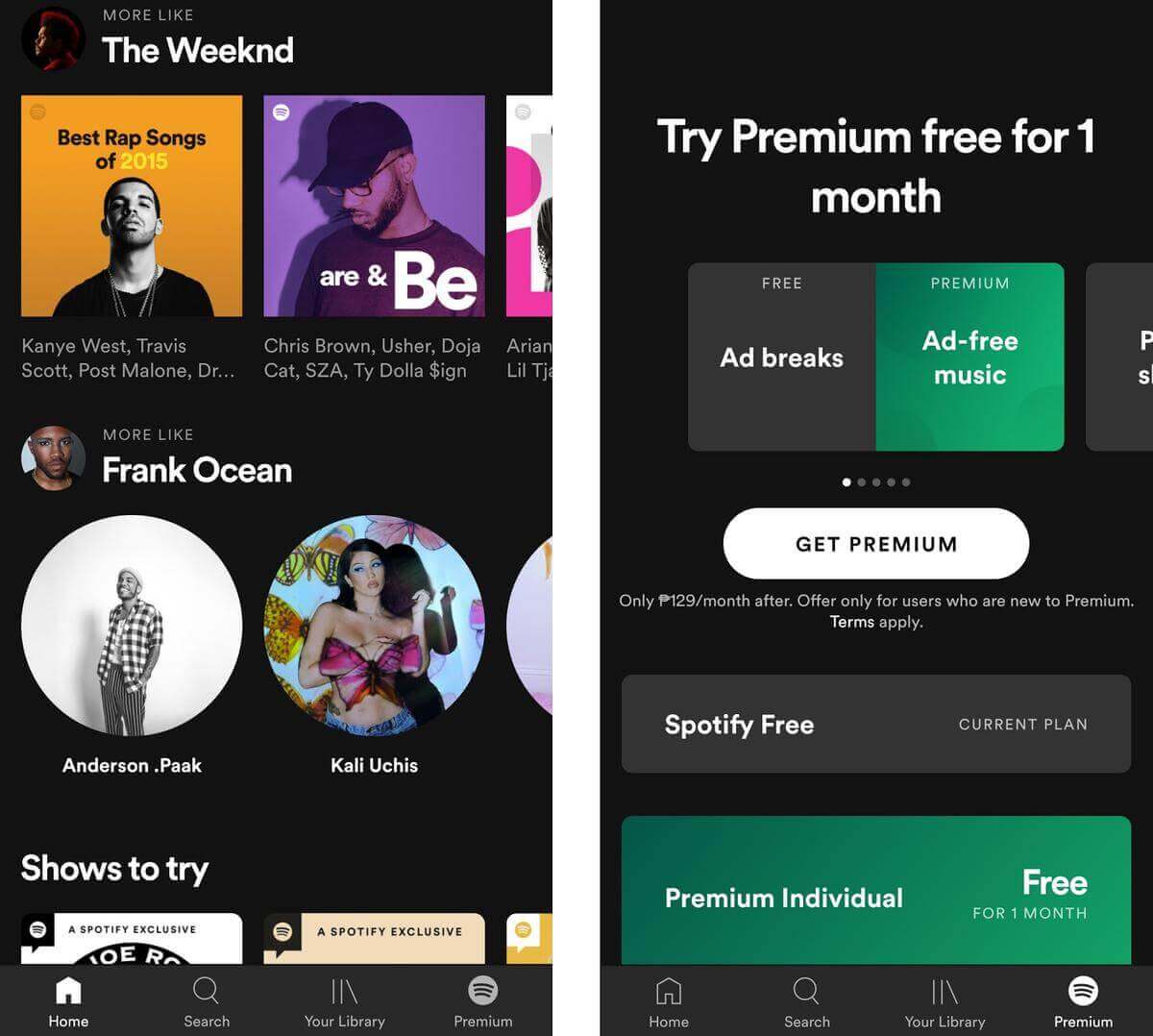 Enjoy Spotify Premium Free on iPhone Forever
Actually, if you are an iPhone user, there is an easy way for you to experience Spotify free forever. In this case, you would need to get a modified Spotify app which is called "Spotify++". You can get this via TweakApp, and we will be sharing a detailed guide on how to do it.
Step #1. On your iPhone's browser, head to TweakBox's website. You will then see the app and the "Install Now" button. Just proceed to install it on your iPhone.
Step #2. From your home screen, open the TweakBox app. Choose the "Apps" tab and then scroll down until you see the "Tweaked apps" option.
Step #3. On the search box, key in "Spotify++" and then find it. Once seen, all you have to do is tap the "Install" option to get the Spotify premium free version.
Step #4. Once the installation process has been completed, just launch it. A warning message shall pop up but all you have to do is to hit the "Cancel" option.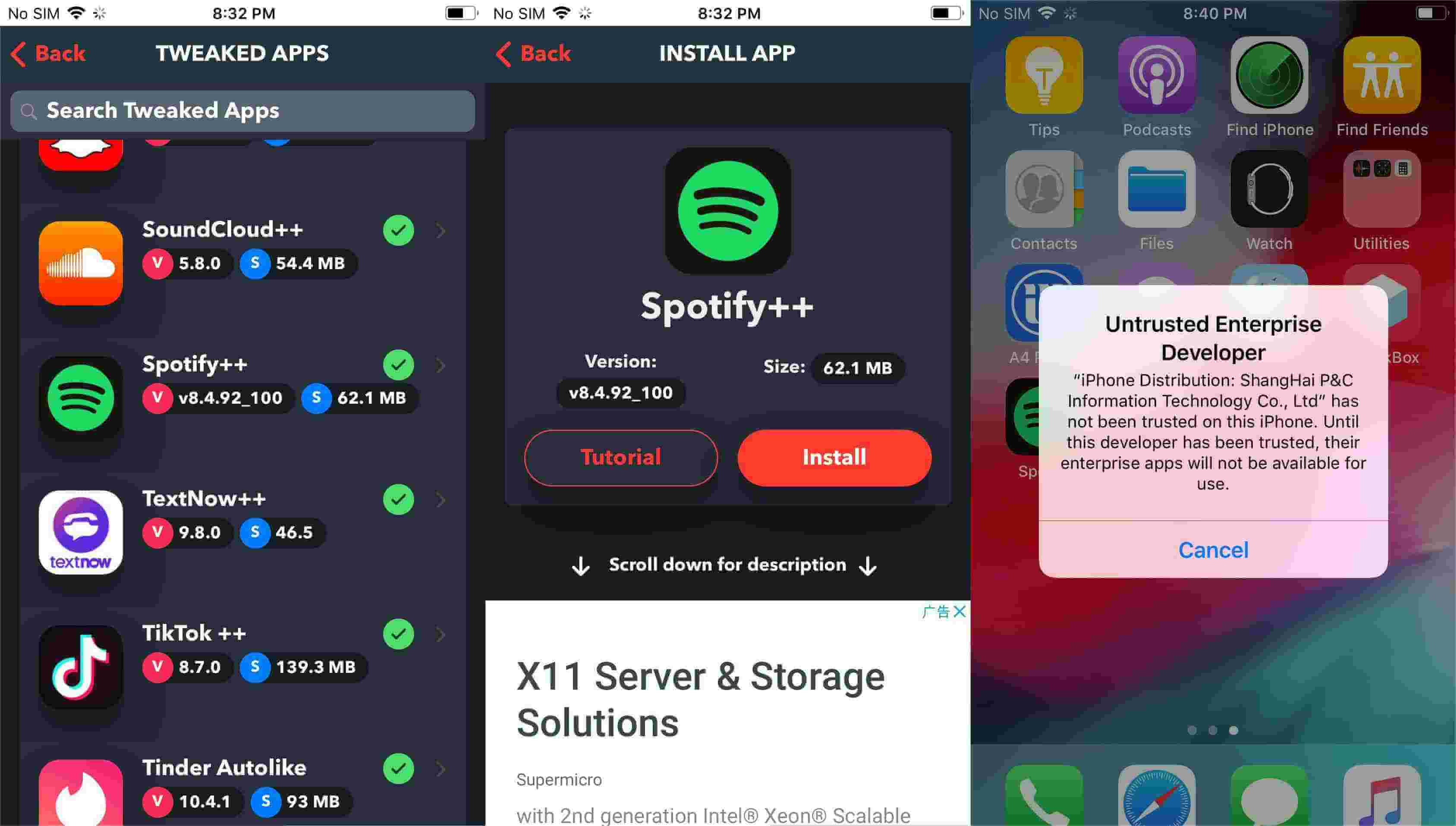 Step #5. Afterward, go to "Settings", then to "General", and finally to "Profiles" and look for the option to trust the developers.
Now, just log into your Spotify account and input your details. You shall be able to finally enjoy Spotify premium free without paying a fee!
Enjoy Spotify Premium Free on Android Forever
Of course, if there is an option for iPhone users to enjoy Spotify free forever, Android users should also be able to do that. And, that is what we will be explaining in this section. All you have to do here is to download the Spotify Premium free APK file.
Remember that this isn't on Google Play Store and that you have to uninstall the official Spotify app first. Afterward, just follow the below steps.
Step #1. On your web browser, download the Spotify Premium APK file.
Step #2. You would need to head to your Android device's "Settings" as you need to allow the installation of a modified or hacked version of Spotify. Do that by moving to the "Unknown sources" option.
Step #3. Unzip it and open the com.spotify.music.apk file. You will need to do so to proceed with the installation procedure.
Step #4. After having this successfully installed, open the Spotify app and then just sign in with your free account credentials. By then, you will get to enjoy Spotify premium free forever on your Android device!
Get Spotify Premium Free Via the Family Account
As you may have read in the previous parts of this post, one of Spotify's paid plans is its Family Plan which costs 14.99 USD per month. With this plan, up to 6 members can enjoy Spotify Premium plans perks.
If you are looking to save but still enjoy Spotify Premium features, it is also recommended that you look for five more friends to share the account with you. This way, you would just need to pay a small amount monthly compared to the 9.99 USD per month fee for an Individual plan owner.
Try a 6-month Free Spotify Trial Offer via Walmart+
Spotify partnered with Walmart to offer Walmart+ members six months of free Premium streaming on the most popular music platform. Walmart customers who sign up for a Walmart+ membership have lots of perks which include free delivery and shipping, fuel price discount offers, and more.
Now, it is worthy to mention that the Walmart+ members are being offered a free trial period of Spotify for 6 months! It's available to both new and existing Walmart+ members who haven't previously tried Spotify Premium. The offer is redeemable through May 7, 2023.

This only means that with your Walmart+ subscription, you can also get to enjoy Spotify premium free! The offer is redeemable via Spotify and Walmart's landing page. But in this way, Walmart Plus costs you $12.95 per month, or $98 for the entire year.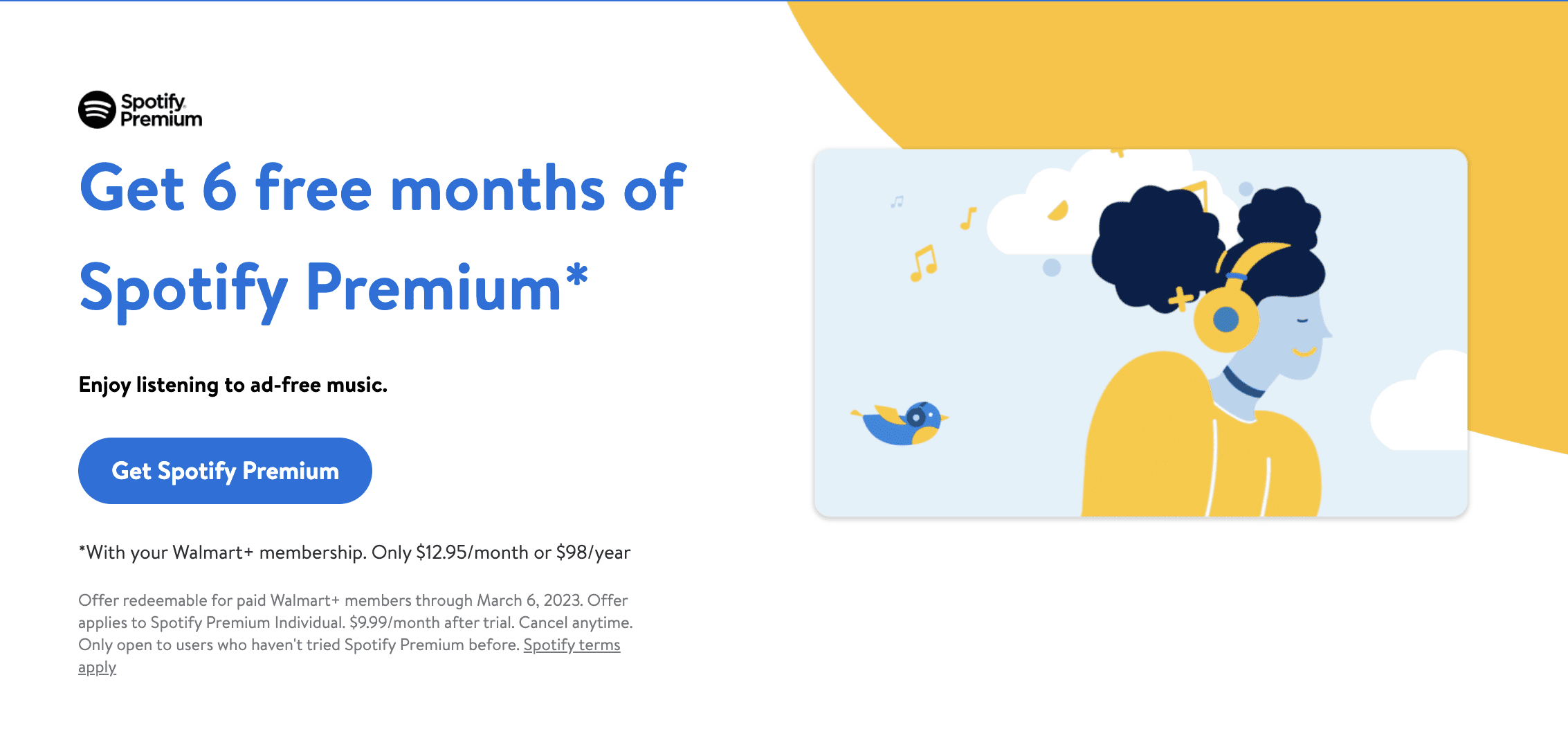 Get Spotify Premium Free with AT&T
Do you know that customers who are using AT&T can enjoy Spotify premium free? AT&T is giving its AT&T Unlimited & More Premium subscribers a little bit more bang for their buck. Those who are signed up for the aforementioned rate plan can choose a new entertainment perk at no additional cost: Spotify Premium. Actually, apart from Spotify, they can access to HBO, Showtime, or Pandora for free.
In this way, you will need the subscription for AT&T unlimited plans first, AT&T offers a variety of unlimited data plans. The biggest downsides are high prices, an unlimited plan starts at $65 a month at least. Find out how you can get Spotify free by using AT&T.
Step #1. If you don't have one yet, just simply create an AT&T WatchTV account.
Step #2. From the options shown, choose Spotify Premium and hit the "Confirm choice" icon to get premium plan for free.
Step #3. Tick the "Visit Spotify" button next. You will then need to sign into your Spotify account. Tap the "I agree" button, then the "Start subscription now" option next.
Apart from what we have discussed in this part, there are still lots of ways for you to actually enjoy free Spotify premium. But as you may have noticed, each of the abovementioned ways have limitations or conditions present. If you really wish to try Spotify premium free without worrying or thinking of extra fee, jump off to the next part and we'll give you the best recommendation.
Part 3. The Best Way to Enjoy Spotify Premium Free Forever
Without having to worry about limitations, why not just have your favorite Spotify songs, albums, and playlists downloaded on your devices to enjoy Spotify premium free forever?
Well yes, you might be thinking that downloading without a Premium subscription is not possible and that Spotify songs are encrypted with DRM protection.
Actually, the removal of the DRM protection of Spotify songs is no longer a difficult task now. In fact, when you go over the web, you will see lots of apps that can do that job easily and fast. However, choosing which app to choose is also a challenge. And so, let us give you a good recommendation here.
Try using a reliable app like this TunesFun Spotify Music Converter. It is indeed one of the best in both DRM removal procedures and the conversion of Spotify songs to flexible formats like MP3. Apart from MP3, it supports other formats like FLAC, AAC, and WAV. So that you can access Spotify Songs with iPods, MP3 players, Android tablets, PSPs, and more.
With TunesFun Spotify Music Converter's fast conversion speed, you can also have the assurance that the files will be converted within just a few minutes and that the 100% original quality of the songs will be maintained. More so, all the ID3 tags and metadata information of the songs will be kept and maintained.
You don't have to worry about the usage of the app as well because this has an interface that's easy to handle and has simple functions. We will also highlight here how you can use this TunesFun Spotify Music Converter to convert the Spotify songs that you love and enjoy Spotify premium free on your device.
Step #1. Complete all the needs of the TunesFun Spotify Music Converter when it comes to the installation process. Once all those were met, have it installed and launch it. Start by adding the Spotify songs you'd like to convert.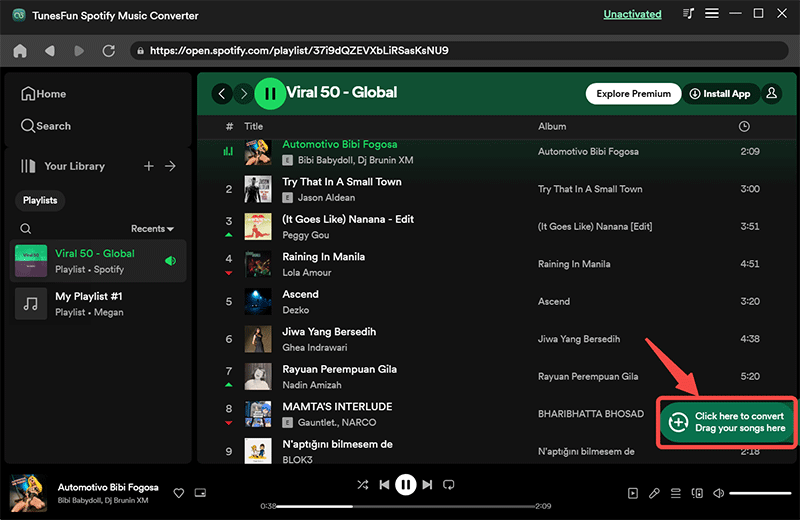 Step #2. Select an output format to use. Defining an output folder is also needed as well as setting up the other parameters.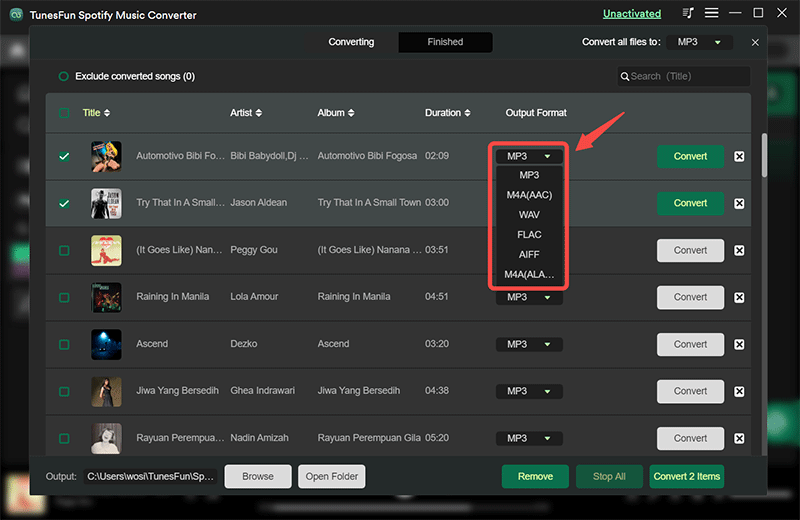 Step #3. Tap the "Convert All" button to start off the conversion process. Alongside conversion, the DRM removal procedure will also be done by the app as well.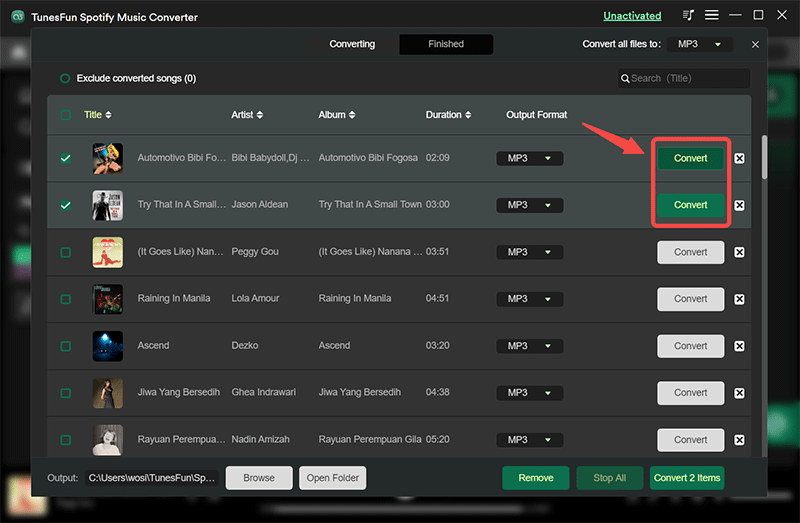 Within a few minutes, the conversion and the DRM removal procedures will start. The output files will then be available for streaming in offline mode as well as playing and saving on any device or media player.
Part 4. Conclusion
Spotify app enthusiasts are very lucky because there are several methods that they can use to Spotify premium free. Some were already highlighted in the second part. In fact, with the use of reliable and professional software applications like the TunesFun Spotify Music Converter, one can even enjoy downloading Spotify songs, saving them forever, and streaming them in offline mode without any limitations.