If you are looking for things like Spotify but free, there are many options that we have these days. And you are really lucky to have crossed this writing, as we are going to talk about the different alternatives that would really be of huge help. Being able to be familiar with many free Spotify alternatives would increase your chance to listen to the best music you always deserve.
In this article, we are going to discuss some of the most famous and best alternatives to Spotify which could help us easily access music we love without paying anything or paying just a little for their services. We will have some of the other things like Spotify but free such as websites, software, as well as apps! If you are interested to know such things you have come to the right place, so let us start.
Article Content Part. 1. What Are Some Of The Free Spotify Alternatives That Are Free?Part 2. What Is The Best Thing Like Spotify Music?Part 3. To Summarize It All
Part. 1. What Are Some Of The Free Spotify Alternatives That Are Free?
Before we know it, there are so many things like Spotify but free, and in this part of the article we will call them Spotify alternatives. All these alternatives which can be better choices than Spotify or other online music streaming sites will be enumerated. You, as a music enthusiast, will be the one to decide which one suits your taste and preference when it comes to the output, and with respect to the resources available as well. Let us see and get to know these alternatives, below.
MusicUp
The first one on our list is a music streaming platform called MusicUp. Through its use, you are able to automatically download album art as well as create your own joint playlist. You can also enjoy the cover of some songs you might like aside from hearing the original versions. There are a lot of audio albums that would be suited to a variety of tastes! Some of the downsides of the platform are its inability to add songs using other sources, and the inability to download audio as well.
With MusicUp, you can use playlists that have been created before you join, you can also make shared playlists with other users. There is also a Karaoke mode and you even have the chance to perform the songs you love yourself. If you just want to stream songs for free, which Spotify does as well, this would be a good choice!
Funkwhale
Another one on the top list is Funkwhale! This one is a decentralized service. You can listen and share music you love within the network, and can have a good interaction with other users! You can also easily look for the songs you love on this platform because you can search them using the track information and artist names as well. You are also able to create your own personal module using the platform.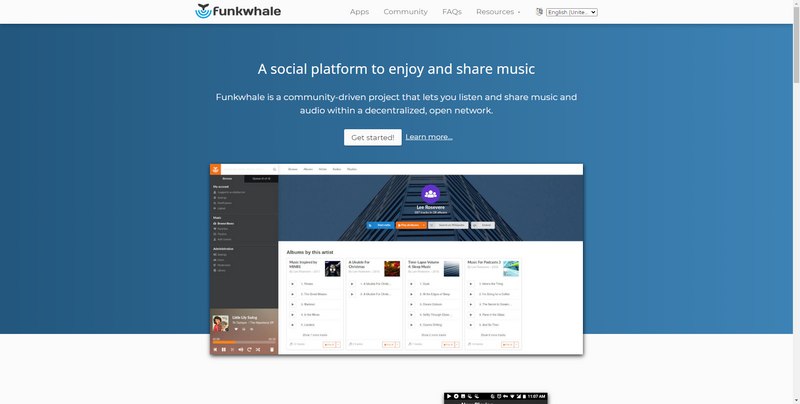 On the other hand, some of the disadvantages of using this platform are you do not have the ability to download podcasts and there is also a dilemma in case that you want fast technical support in case something happens.
Jango
The next one we have is a music platform called Jango. If you wanted to enjoy a variety of ready-made playlists, this might be the one that you need. Through its use, you can also create your own personal playlist, and you can enjoy your own choice of music styles. The best thing about this platform is the regular updates! On the other hand, you can also use it if you want to stream songs since downloading them using Jango is not possible. Also, when creating your own playlist, you should put in mind that there is a limited number of artists, and it should only be six (6).
Ampache
We also have a web-based audio in the list called Ampache. If you are looking for a service that also caters to training materials and texts, this one is for you! You can also convert text to speech, imagine that? Aside from being able to enjoy a huge archive of audiobooks, you can also listen and download audio as you like!
However, when it comes to downloading, it is only limited to a certain number which is 5000 and it is already a huge one! Also, if you are new to using the platform, there is a huge possibility that you would get confused as the interface is not that simple and easy to understand. But the best thing about it is, it is free! You can listen to all the songs you love with its help, and not only that, as we have mentioned before, you can also enjoy a tremendous quantity of audiobooks which is really good if you are the bookworm type!
Koel
Another one we have is called Koel which is a personal music server. As you can notice there are a lot of things like Spotify but free, and if you are a true music enthusiast you should be rejoicing by this time! This one is the versatile type as it can open in any browser you have. It is also easy to use, and you can even use it on a computer since it can be installed on it as well. With its use, you can surely make personal song libraries which is a good thing if you wanted to do some personalization in the music that you listen to. However, it really has a sophisticated and complicated interface, and there is difficulty in downloading the songs as well. But if you want to ultimately save a huge space on your devices while being able to listen to all your most loved songs, this one would really be a great choice!
Also, Koel would be a great one if you wanted to listen to your downloaded songs even when you are offline. The app has updates as well so, it can technically fix the bugs and errors that would possibly come along the way!
SHOUTcast
And we have another one of the things like Spotify but free, and this one is a cross-platform software called SHOUTcast. One of the best things about SHOUTcast is it works offline. It is a web-based control panel and is a cross-platform application. It is also a broadcasting digital audio or video signal software.
The disadvantages of using this software are the prolonged absence of updates and the difficulties of installing it on Linux. On the other hand, this software is being patronized by a lot of broadcasting agencies, and because of this, we get to listen to songs we love even when we are offline. There is also a possibility to create playlists that are personal and listen to these playlists as well, at any time you would like.
MySpace
Another one that we have on the list of the things like Spotify but free is MySpace. It is a social network, that you can use to create personal profiles. You can also use it to view clips and files, and post videos and photos, and even create your own personal video and playlist archives.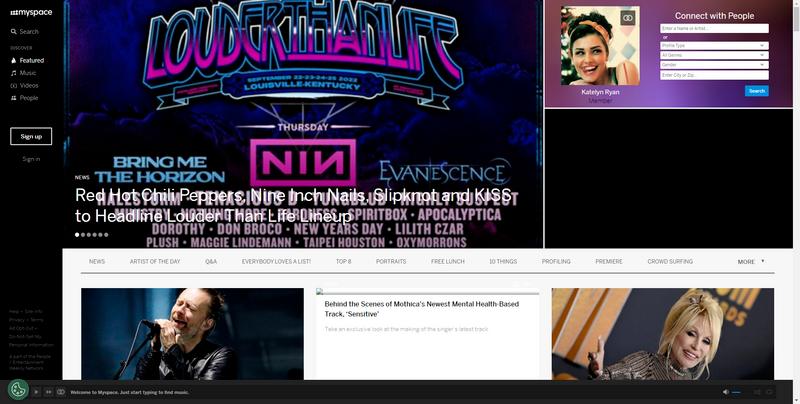 Some of the downsides of this platform is that there are no regular updates if you choose it, and in order for it to be used you will need a stable internet connection which must be present at all times.
And these are only some of the things like Spotify but free, if you go over the web and tried to look for more, there can be a lot of these things. You just have to make sure that you always choose the way you will enjoy things at the very end, and that you will be happy along the process of getting to the music you always want to listen to.
Part 2. What Is The Best Thing Like Spotify Music?
What more could we ever ask for? There are several ways to listen to music, we have lots of platforms to utilize, and technology has given us so much more to utilize. The ball just depends on the user.
One of the many popular ways people can use to access music files they adore is the use of the Spotify platform. Through its use, people can easily listen to songs they love as long as they have a proper internet connection, or they have a paid subscription with Spotify. There is a free plan and there is also a paid one. The consumer gets to choose which one is better for her wants, needs, as well as resources.
Even though the use of the app is really convenient and people can easily stream and download music files, not all of us can be able to afford it. So, the wiser thing to do is to look for an alternative that is economically viable for you.
And in this article, we are going to talk about TunesFun Spotify Music Converter and its wonders. Who would not want to stream and download Spotify music tracks as you like? Well, with the help of TunesFun Spotify Music Converter, it is possible.
You can stream and download the music files and convert them to other formats where you can use multiple devices. Also, with the help of the TunesFun Spotify Music Converter, the process would be fast and efficient, and people can surely save time by using the professional tool. It can also be assured that with the use of this tool, the outputs will be of useful formats and will be lossless as well. There is no need to worry about bad music quality after converting them to other formats. And of course, in order to be sure that you are able to convert all that you need, you have to learn how to use the interface, and it is also great that the TunesFun Spotify Music Converter's interface is very user-friendly and would also do good to new users. In order to show you how this tool is used, we have listed the steps of how can you be able to utilize it below.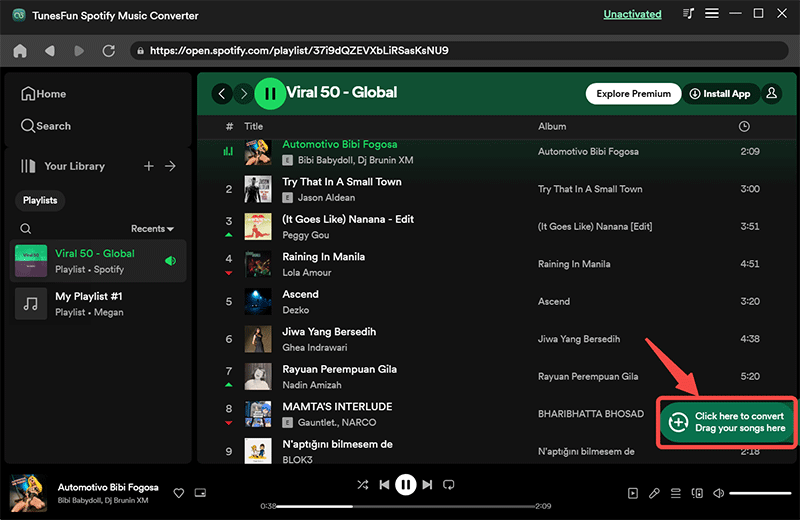 Step 1. You can start by downloading and installing the TunesFun Spotify Music Converter on your computer. Once you have installed the program well, the addition of music files for conversion can be started as well. To add the files that you want to convert you can use the drag-and-drop method, copy the URLs of the music files, or tap the Add Files button if you want.
Step 2. Then you can now choose the types of formats that you desire to have and then once settled, you can also create a folder where you can save all the converted files. You can rename the folder based on your own personal preferences or you can even use the default details of the songs that you will be saving on the folder such as titles, genres, and even artist's names.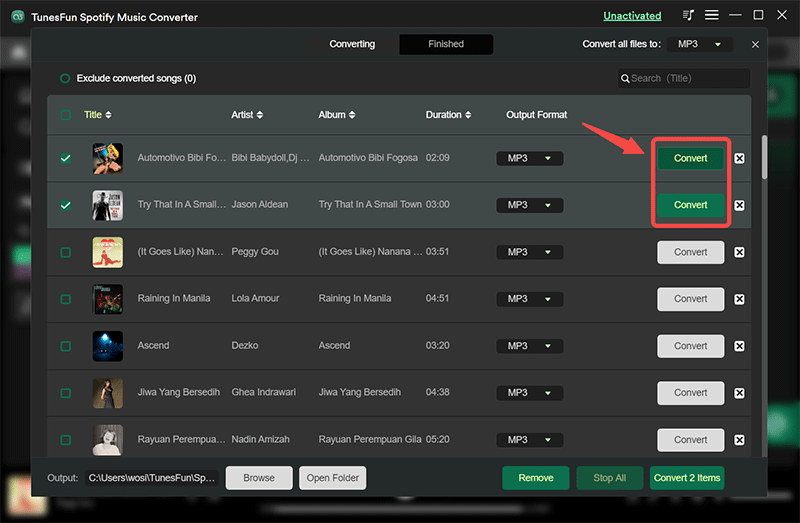 Step 3. Then for the next step, you can hit the Convert button and wait until all the added music files have been finally converted. You can also see the monitoring of the conversion of the files on the main page of the TunesFun Spotify Music Converter so you will have a hunch about where the processes are already at.
Part 3. To Summarize It All
There are so many things like Spotify but free, you just have to open your eyes and be creative when it comes to looking for one. With all the websites, applications, and even software that we have shared, you always have to remember one goal, and that is to be happy.
If you want to experience listening to lossless music without any type of dilemmas and conflicts, it would always be recommended that you try to use TunesFun Spotify Music Converter, amongst all the other choices shared, this one is the perfect one to enjoy listening to music at your own extent.