Spotify is one of the best music streaming apps. We knew that nobody will disagree with this. With the advantages it offers, the number of its subscribers continuously increases tremendously day by day. One of the amazing perks of having an active Spotify subscription plan is the ability to stream the songs in offline mode.
Spotify is indeed generous for offering a free version of the app. However, if users continue using their free Spotify accounts, streaming without an internet, Wi-Fi or cellular data connection won't be possible. Does Spotify work without Wi-Fi or internet connection? How can you keep the music on Spotify going in the wild or weak network areas? These are challenging questions.
In this article, we will be focusing now on giving you an idea of how Spotify will work without a Wi-Fi connection. We will be discussing two ways in detail in the body of this article. This "does Spotify work without Wi-Fi?" is no longer a question to you as we've given you the answer to that already!
Article Content Part 1. Why can't I Play Spotify Offline?Part 2. How Do I Go Offline on Spotify Without WiFi?Part 3. Summary
Part 1. Why can't I Play Spotify Offline?
Does Spotify work without Wi-Fi? Yes, Spotify can work without Wi-Fi as long as you have a premium account. But why would some Spotify premium users still ask why they can't play Spotify in offline mode? Actually, there are lots of basic or common reasons as to why your Spotify account won't play songs in offline mode. We will be highlighting five of them here.
One possible reason why Spotify songs can't be played in offline mode could be because the tracks aren't actually available for offline streaming.
You might not have set the "Offline Mode" setting correctly on your device.
You might be using an outdated version of the Spotify app or there could be issues with the device or media player that you are using for streaming.
Spotify couldn't possibly detect the location of the downloaded songs resulting in the inability to play them offline.
There could be bugs and errors in the app.
As we have mentioned, the above are only some and are a few of the reasons why you can't stream Spotify songs in offline mode. Does Spotify work without Wi-Fi? What can I do in this case? Since we are already on this topic, let us also go into the basic fixes that you can do when such an issue of not being able to play Spotify songs offline happens.
You have to check if the tracks were downloaded successfully. Ensuring that you have a stable internet or Wi-Fi connection would be beneficial.
Try logging in and out of your Spotify account as there could be issues with the app. You may also try to close the app and open it again after a few minutes. Restarting the device you are currently using could also fix the issue.
Your Spotify Premium account should be active and running. If this expires or is canceled, you won't be able to access the downloaded Spotify songs.
There could also be an issue with your Spotify payment status. If this is in "pending" mode, this means that the payment hasn't been done yet. Thus, hindering you from playing the Spotify songs in offline mode.
You should also check if your device has free storage space.
The same as what we have previously said, the above are also some of the many solutions you can apply in cases when your Spotify songs aren't playing in offline mode. There are bunches of ways that you can still try to solve the dilemma.
Now that we just have answered the "does Spotify work without Wi-Fi?" question, and we even have given you the reasons and basic solutions when it comes to the issue of Spotify not being able to play songs in offline mode, we will now be dealing with the detailed procedures of how you can go offline on Spotify. We'll discuss all that as we jump to the second part.
Part 2. How Do I Go Offline on Spotify Without WiFi?
Though we had given you what you need when it comes to this article's topic – "does Spotify work without Wi-Fi?", we would like to still be generous and share with you important information when it comes to streaming Spotify songs in offline mode. As we have stated, we have two ways of letting you stream your Spotify favorites offline. We will be sharing those two here.
Method 1. How to Use Spotify Offline Mode on Multiple Devices? (Premium)
Does Spotify work without Wi-Fi and listen to music offline? Having a Spotify Premium account entitles you to the privilege of using Spotify in offline mode even on multiple devices. For you to download tracks, albums, and playlists, you only have to perform a few simple steps. We have here the detailed process.
Take note that when before doing the downloading procedure, you must be using the latest version of the Spotify app, you have an active Spotify Premium subscription, and your device is connected to a stable Wi-Fi or data network. Now, here's the process of going offline on Spotify with your premium subscription.
Step #1. Download the Spotify Songs That You Like
Before you can finally go to offline mode, you need to have the tracks or even podcasts downloaded first to make them available for streaming even without an internet connection. Open Spotify on your Mac or PC, just head to the playlist that you wish to be available offline, and then toggle the download slider that is just at the top right area of the songs' list. The green color signifies that you have done it correctly. Just wait until the download is complete.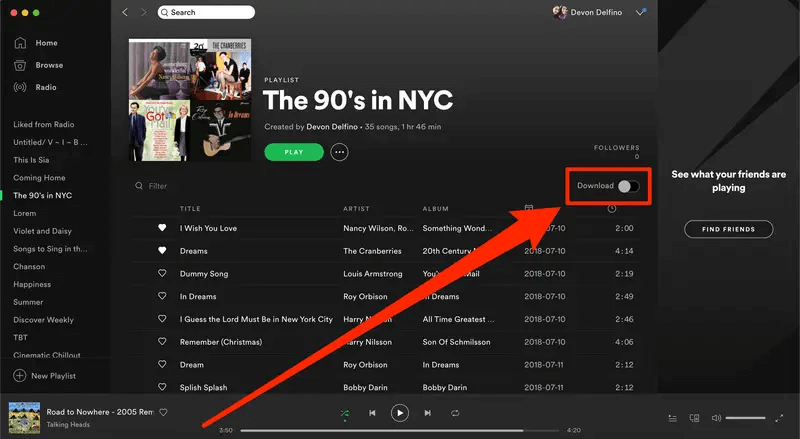 For iPhone or Android devices, you can install the Spotify app in Google Play Store or Apple Store first. Then run Spotify and locate the playlist or songs you want to download. Finally tap the "Download" switch, located below the green "Play" button, so it toggles to the right and turns green.
Step #2. Setup The Spotify Offline Mode
After successfully downloading the songs or playlists that you like, you can now go ahead and set up Spotify's offline mode.
If you are using a Windows computer, just tick the "three-dot" icon, then the "File" button, and select "Offline Mode". For Mac users, tick "Spotify" from the Apple menu, and then choose "Offline Mode" next.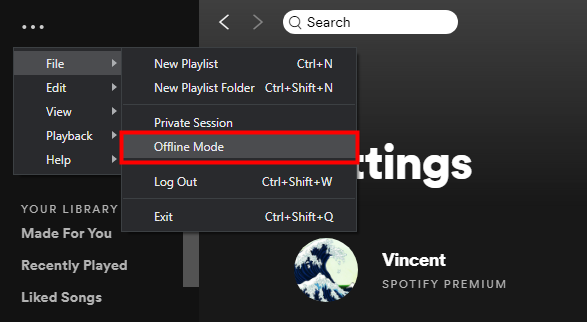 If you are a mobile phone user, you can just simply go to the "Library" page, then tap the "Settings" icon, "Playback", and then switch the "Offline" menu to "on".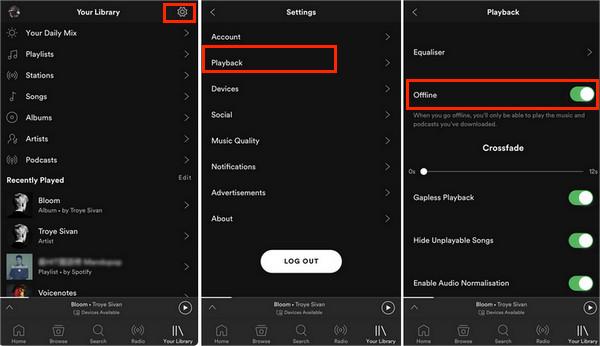 By doing the above, you will be able to stream the downloaded songs in offline mode. Just remember that when your subscription is canceled, those songs you have previously downloaded will all be gone.
Method 2. How to Listen to Spotify Offline Without Premium? (Best way)
The answer to this "does Spotify work without Wi-Fi?" question is indeed positive with your Spotify Premium account, but what if you are a free Spotify account user? Can you still answer this query with a "Yes"?
Actually, you can even have your favorite Spotify songs played offline even without a premium. Does this sound too surprising? Well, we're lucky because apps like this TunesFun Spotify Music Converter are available!
TunesFun Spotify Music Converter is an application that lets you download and convert Spotify songs with ease. Though Spotify tracks are known to be protected by Digital Rights Management (DRM), apps like TunesFun are very capable of getting rid of this protection. It also aids in the conversion of Spotify songs from their current file format to more common formats like MP3, FLAC, M4A, and WAV. Thus, the new versions of the Spotify songs can be played on Discord and most media players.
Moreover, the whole process is totally lossless. Thus, ensuring that the 100% original quality of the tracks will still be maintained alongside the ID tags of the songs and their metadata information. Does Spotify work without Wi-Fi, whether you're a subscriber or not? With the help of TunesFun, you should know that the answer to this is positive. Though this app is a professional converter and it might be intimidating to use it, you don't have to think about it that much as this app's interface is too simple.
Here is a helpful guide on how you can use this TunesFun Spotify Music Converter to convert and download Spotify songs for streaming in offline mode.
Step #1. Once you have installed the TunesFun Spotify Music Converter on your computer, just launch it and begin cccs or by simply dragging and dropping them to the main interface.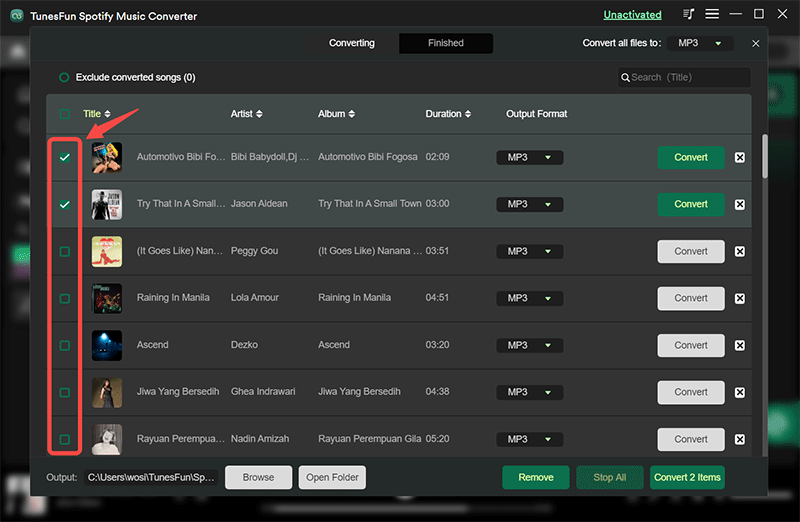 Step #2. Set up the output parameter settings. Choose an output format to utilize as well as an output path.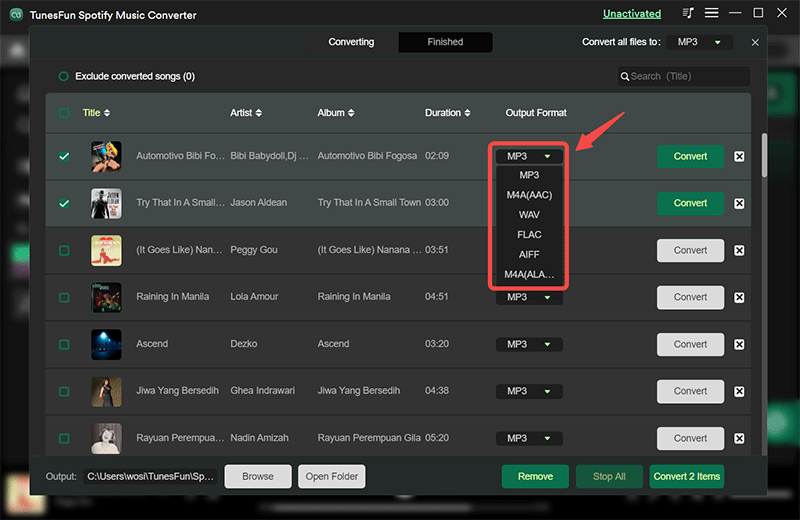 Step #3. Tick the "Convert" or "Convert All" button at the bottom of the page to trigger the app to start the conversion and DRM removal procedures.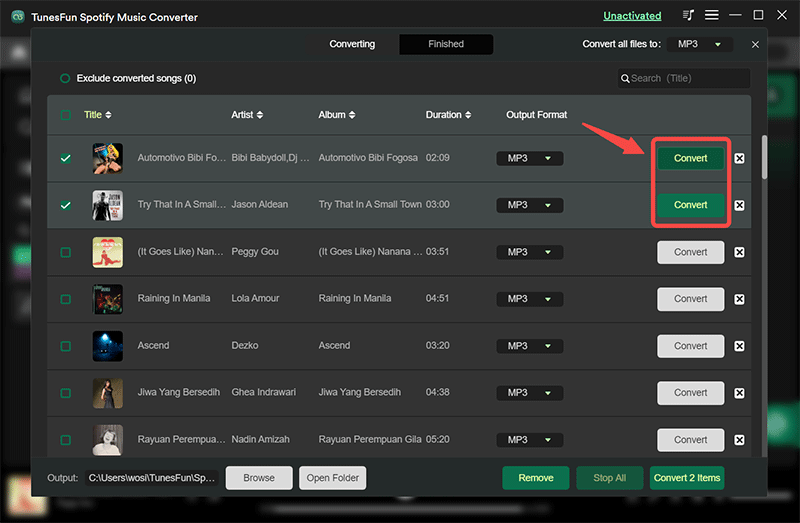 In no time, the converted Spotify songs will be ready for streaming offline as this app also works pretty fast.
Part 3. Summary
We are glad that at the start of this article, we have already shared with you the answer to this "does Spotify work without Wi-Fi?" question. We do hope as well that you've learned the details and procedures of how you can go offline with and without a Premium Spotify account very well after reading the whole content of the second part.
With TunesFun Spotify Music Converter you can download songs easily and conveniently you can sit back and relax and let the TunesFun do all the job for you on how to download Spotify songs effectively. But just in case you have queries about this topic, you can just leave a comment in the below section and we'll be glad to assist you.