Spotify is a great online music platform where you can download and listen to songs for offline use when you're subscribed to its Premium service. But, what's even better than Spotify itself? Well, of course, it's a Spotify visualizer that allows you to look at imagery and visualizations of the sound you're listening to.
A Spotify visualizer helps to put you "in the mood" when playing tracks on the said music streaming giant. Watching the screen on your computer or mobile device creates various imageries that can be both stunning and entertaining.
Thus, we have made this guide to help you choose the best visualizer for the Spotify platforms. We'll start with online visualizers. Then, we'll move to third-party applications. Finally, we'll give you the best way to play Spotify music on your visualizers. Check out our guide below.
Article Content Part 1. Does Spotify Have a Visualizer?Part 2. Top Three Online Spotify Visualizers Free/PremiumPart 3. Best Three Third-Party Spotify VisualizersPart 4. The Best Way To Play Spotify Music On VisualizerPart 5. Summary
Part 1. Does Spotify Have a Visualizer?
Music Visualization is a feature in electronic music visualizer and media player software that generates animated images based on the loudness and frequency of each piece of music. Using Music Visualizer you can see the 3D effect of your music rendered in real time as it is played.
There used to be a music visualizer for the Spotify app. However, Spotify had removed this music visualizer function. Currently, Spotify users need to use some online Spotify visualizers or only use third-party Spotify music visualizers.
So, in the next, we will list the top 6 best Spotify visualizer free/premium for you, including Kaleidosync, Spotify Web Visualizer, Tessellator, VSXu Audio Visualizer, VLC Media Player, and PotPlayer. There are online Spotify music visualizers and third-party Spotify music visualizers.
Part 2. Top Three Online Spotify Visualizers Free/Premium
In this section, we'll give you the top three online Spotify visualizers to keep you enchanted while listening to music or even meditation tracks. Let's start with the first one, Kaleidosync.
1. Kaleidosync
Is there a visualizer for Spotify? Yes, Kaleidosync is an online music visualizer for Spotify. This is the first online Spotify visualizer that you'll come across when you search the web. As of the moment, its second version is under beta testing. But, the first version can be used immediately. Once you go through their website, you'll see a very clean interface that lets you log into Spotify.
To use this online Spotify music visualizer, you should sign in with your Spotify account first. When you click the Log In button, you will immediately be redirected to Spotify's Sign Up page. You simply enter your username (or email address) and password to get started.
It only works if you listen to entire Spotify songs. Kaleidosync offers different customizable visualizers and lets you enjoy your favorite music on full-screen.
This visualizer is a great tool for Spotify lovers and users. Animated pictures include flower-shaped images from a roster of different pictures. If you wish to check album artwork and track information along with the imagery, you can do so b customizing it. In addition, it has a lot of extra features including Brightness, Zoom, RGB, and Sides.
The systems compatible with Kaleidosync include Mac and Windows computers. In addition, it can be used on both Spotify Free and Spotify Premium Subscription accounts. Using Kaleidosync is surely a win-win for both users and service providers.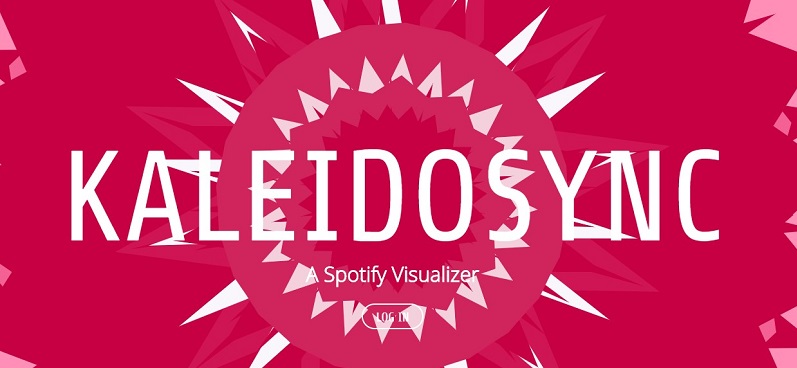 2. Spotify Web Visualizer
Is there a visualizer for Spotify? Yes, Spotify Web Visualizer is a Google Chrome extension that gives you a full-screen Spotify visualizer for the web. It's great for displaying various types of artwork while Spotify is playing on the side when you're working.
The developer, Niko Draca, a software engineer based in Canada, is always looking for ways to fix bugs and improve Spotify Web Visualizer. According to his website, he built the visualizer because he's fond of having "nice visuals" when listening to Spotify through external displays or Chromecast.
Spotify Web Visualizer utilizes mutation observer to detect changes in songs. Plus, according to the developer's website, it became number four in ProductHunt's Product Of The Day feature list. You can use this tool to view imagery in full screen too!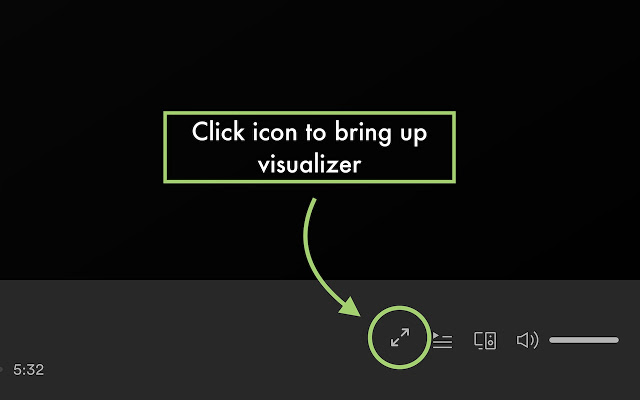 3. Tessellator
Is there a visualizer for Spotify? Yes, Tessellator Spotify visualizer is inspired by Christian Loffler and refers to itself as an "interactive 3D music visualizer". It was developed to enhance listening experiences on Spotify. It utilizes live audio to create visuals in actual real-time. There is no static content on loops on Tessellator making it a great app for people who love to see a variety of images.
It works by analyzing track features through the Spotify API. In addition, the mic of your computer will actually listen to what's played on your Spotify account. This is done through the Web Audio API. This is added to the analysis made to make visual imagery on the screen.
The drawback we can see here is you need a Premium Spotify account in order to use Tessellator. But, it makes a compromise by allowing you to view the imagery in full-screen mode just by pressing F11 or F keys.
Different modes are available with Tessellator. These include modifications you can make in visualizer mode, color mode, and even visualizer mode randomizer. A color mode randomizer is also included in this Spotify of visualizer.
Part 3. Best Three Third-Party Spotify Visualizers
In here, we will provide a list of the top three third-party Spotify of visualizer you can grab from their official websites. These visualizers are all great options for music and Spotify lovers out there. Check them out below.
1. VSXu Audio Visualizer
Is there a visualizer for Spotify? VSXu Audio Visualizer is a powerful Spotify visualizer for the Windows and Linux operating systems. It is very sensitive in terms of recognizing the music you are playing. And, it works if you're using the Spotify platform online or offline.
Visual effects are shifted in a variety of ways allowing you to check out different effects in real-time. There are pictures, lines, and music going all together to give you the best eclectic experience possible.
The VSXu Audio Visualizer offers a lot of shapes and automatic switching capabilities. It is necessary to download the program for it to work. However, you don't need to log into your Spotify account with this software. It works on both Spotify Premium and Free Spotify accounts.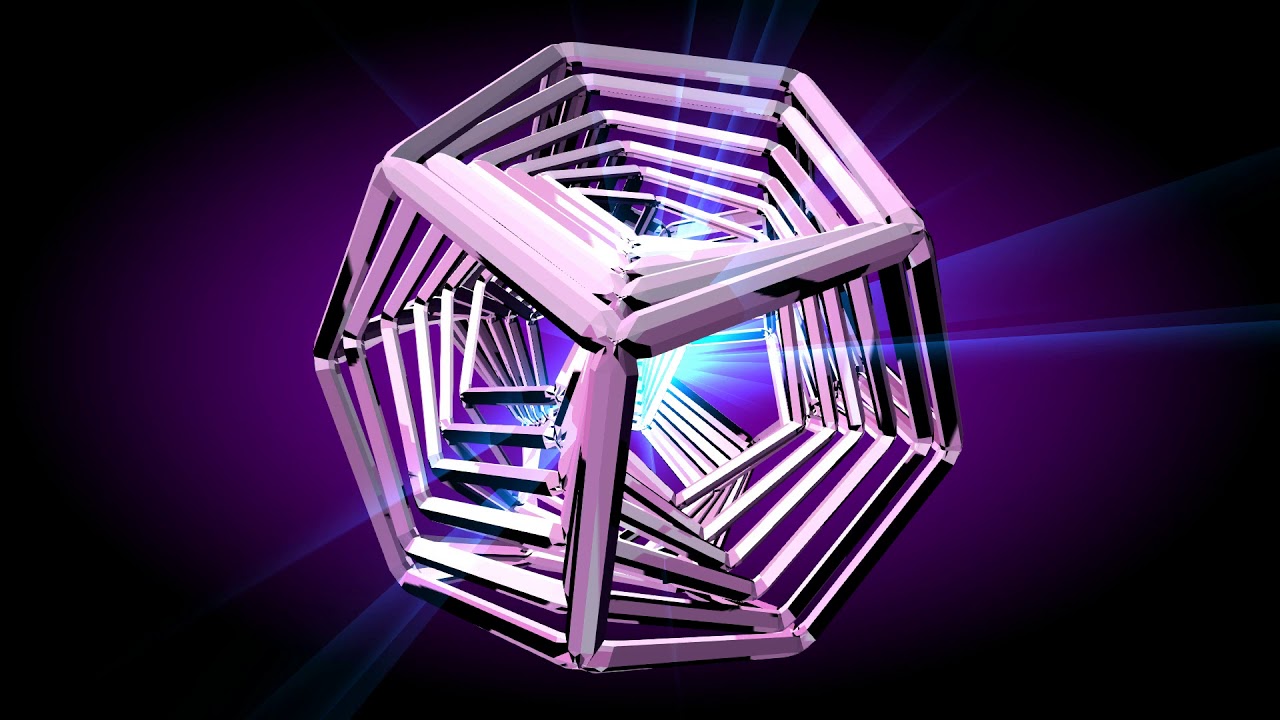 2. VLC Media Player
As you may have noticed in our articles, VLC Media Player can do wonders. It allows you to convert tracks, watch hard-to-open video file types, and even act as a Spotify visualizer. It has an in-built music and shows you the title of the track you're playing when you begin launching it.
VLC Media Player is a great visualizer if you want to enjoy one without the need to have a Spotify account. Animated shapes will show you the different metadata including contributing artists and titles of the track. Plus, it works on Windows PCs and Mac computers.
As you can see, VLC Media Player is not the best Spotify of visualizer out there. But still, it can be great to use, especially if you already have VLC on your computer. And, you can use it to convert tracks too. So, it's still a great option to include here.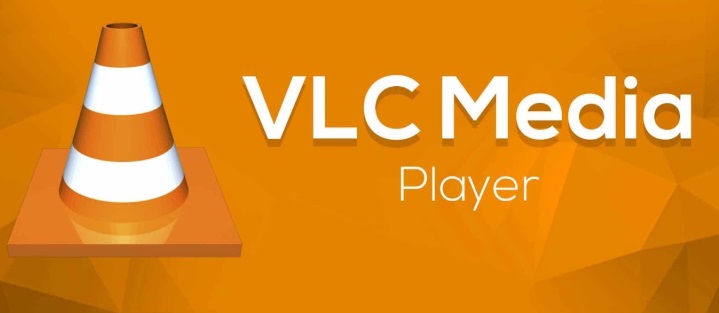 3. PotPlayer
Is there a visualizer for Spotify? PotPlayer is actually a media player similar to that of VLC. If you want to use it as a Spotify visualizer, you can simply go to the tab labeled Visualization. Then, you can choose to activate the option known as "Enable Visualization".
From this section, it is possible to select various styles of visualization. These include Slideshow, WMP Visualization, Floating Ball, and a combination of different styles too. This great and powerful tool even allows you to set frames per second (FPS), resolution per frame, and input slide effects.
PotPlayer is very easy to understand and use. Moving shapes and imagery can be displayed with the metadata such as music formats, title, sample rate, and bit rate, among others. It even allows you to stop, skip, and control the volume levels of the music you are playing.
This tool is compatible with both Windows and Mac operating systems. In addition, you can use it for both free and paid Spotify accounts. You can enjoy it anytime you want to at any computer without having to sign into your Spotify account.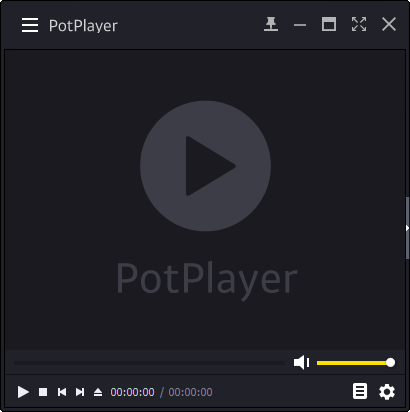 Part 4. The Best Way to Play Spotify Music on Visualizer
If you want to play a Spotify visualizer while you're listening to your favorite tracks, then you're on the right page. In this section, we will teach you the best way to play Spotify music on a visualizer. Our method doesn't require a premium Spotify account. You can do this in the comfort of your own home as well.
So, basically, you need TunesFun Spotify Music Converter. This is a great tool to grab tracks from Spotify. You can also use it to get entire albums or playlists that you like. It allows you to convert all of your tracks to different supported formats. These include MP3, WAV, FLAC, and AAC, among others.
If you want to grab tracks at lightning-fast speeds, then TunesFun Spotify Music Converter is for you. Compared to the average converter, it offers speeds that are five times faster. Plus, you can preserve the metadata and keep the ID3 tags of the tracks you grab. You can click the below button to try it for free now!
Here's how to use TunesFun Spotify Music Converter to play your favorite tracks on a Spotify visualizer:
Step 01 – Download TunesFun Spotify Music Converter
The first step involves downloading TunesFun Spotify Music Converter from its official website. You can choose to get a free trial or buy it outright. In addition, it has both Windows PC and Mac OS versions for you to select from.
Step 02 – Install And Launch TunesFun On Your Computer
Once you have chosen the right installation package, open this file. Then, follow the prompts on the screen to install TunesFun Spotify Music Converter on your computer. Once it is finally installed, you can simply open the tool on your Mac or Windows PC.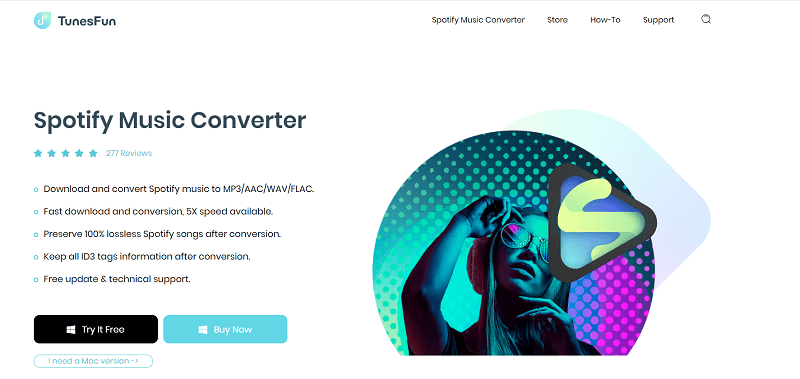 Step 03 – Copy And Paste Spotify URLs Or Links
The next step is to open Spotify and go to the track, album, or playlist that you want. Copy the link of these. Then, make sure any instances of Spotify on your computer are closed. These include web applications of Spotify. Then, paste the track's URL on the box found in the interface of TunesFun Spotify Music Converter.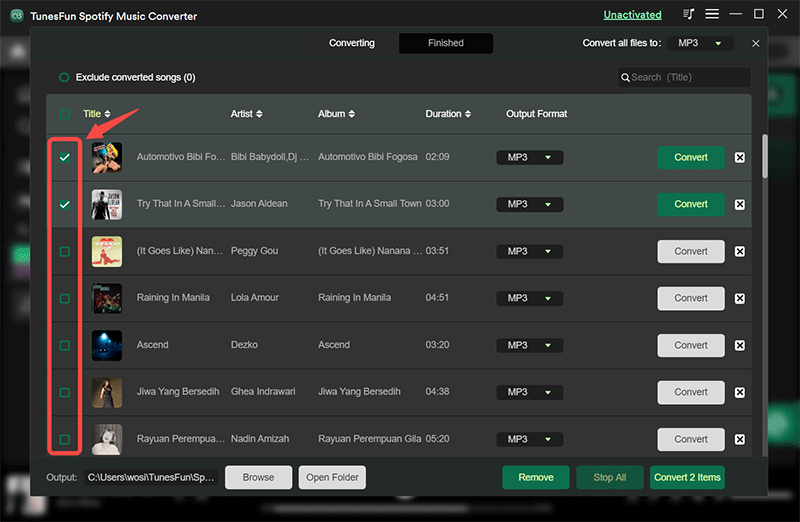 Step 04 – Choose Preferred Settings
The next step would be to choose your output format and desired output location. As stated previously, there are a lot of output formats available including FLAC, MP3, and WAV. Once you have done this, go to the next step.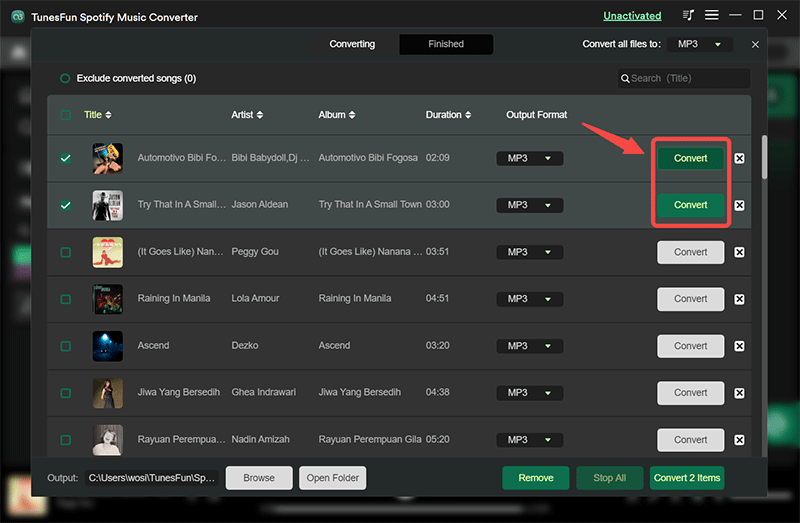 Step 05 – Download And Go To The Selected Destination Folder
Next, download the tracks by pressing the software's "Convert" button on the interface of TunesFun. Wait for the process to complete. After that, you can go to the selected destination folder you have chosen in Step 04 to view the files you have grabbed from Spotify.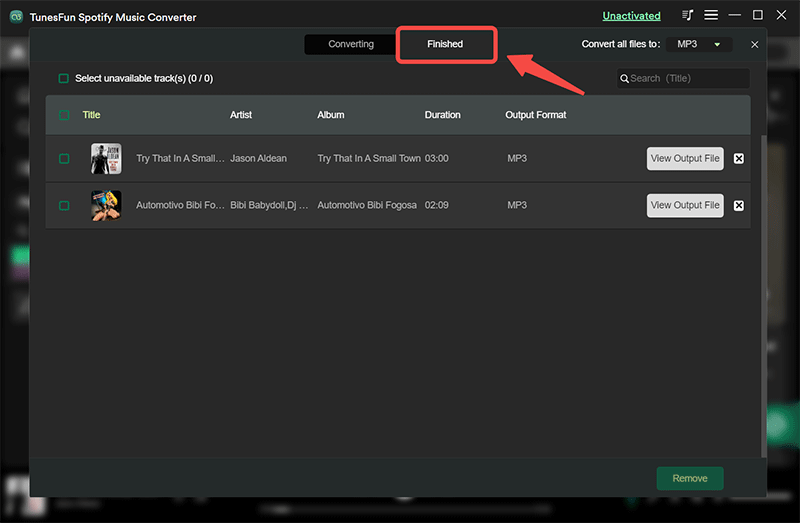 Step 06 – Open The Tracks On A Spotify Visualizer
Assuming that you already have a third-party Spotify of visualizer, you can simply open the tracks using these apps. In this way, you can enjoy your Spotify tracks on a visualizer with the help of TunesFun.
Aside from using Spotify visualizer on PC, you can use a music visualizer on your mobile device, such as using Spotyfy visualizers on IOS, iPad, or Android.
For instance, you can grab tracks from Spotify using TunesFun. Then, you can transfer the songs to your mobile device using a USB cable or a file transfer software. Then, you can download a visualizer app on your Android or iOS device. Finally, use this visualizer to have imagery while playing the songs you grabbed from Spotify.
The great thing about TunesFun Spotify Music Converter is it is very fast. Plus, it works all the time. It's not like other converters out there that don't work at most times. TunesFun is a very reliable converter and downloader of tracks from Spotify, SoundCloud, etc. Click the button to try it for free!
Part 5. Summary
This guide has given you a Spotify of visualizer list you can use to have various images on your computer when listening to tracks on the music streaming giant. We have divided it into two major groups, online Spotify visualizer and third-party visualizers.
The first group includes Kaleidosync, Spotify Web Visualizer, and Tessellator. The second group of third-party visualizers includes VLC Media Player, PotPlayer, and VSXu Audio Visualizer.
We also gave you a tip on how to play Spotify tracks on visualizers. You can do this by downloading, installing, and using TunesFun Spotify Music Converter. By doing so, you can grab the tracks from Spotify and use them on your computer or mobile device.
In this way, you can use any kind of visualizer that you like. Plus, you get to keep the tracks without the need to pay for a premium subscription of Spotify. The best thing about it is it's very fast and is about five times quicker than the average Spotify music converter.
Thus, if you want to grab TunesFun Spotify Music Converter, you can easily do so today. Simply go to their official website using your favorite browser. Then, you can opt for the free trial to test it out first. If you're satisfied, you can pay for the premium version for additional features and no limitations.