Another great component of Spotify is that this also allows subscribers to start sharing Social media like Twitter, Skype, Facebook, and more with their favorite music tracks, album covers through their friends and family members. Yet for all your acquaintances without certain updates, this could publish each piece of music you performed on Social media. This is irritating. And you want to know how to let Spotify disconnect from Facebook.
You shouldn't worry, there will be a simple way of hiding your songs again from the Facebook digital display that is playing at the moment. The "social" Automatically create new soundtracks public "Make new songs and albums public automatically "Show your current Top Artists "Show my overall Top Musicians.
As such easy, However, if you feel anxious concerning it then you can disable Spotify completely from Facebook as well. The leading methods to do that are below.
Article Content Part 1. What Happens If I Remove Spotify from Facebook?Part 2. How to Let Spotify Disconnect from Facebook?Part 3. How to Delete Spotify Account?Part 4. How to Get Spotify Songs without A Premium Account?Part 5. Summary
Part 1. What Happens If I Remove Spotify from Facebook?
Look at the purpose for that as well before you agree to remove the Spotify account through your Facebook account.
Allowing Facebook through the Spotify account would allow you to:
Sign in to the Spotify account easily on every browser when Facebook has already been signed.
Through the Facebook-enabled cellular phone, launch the Spotify account without logging in.
Instead of several, you would only have to think of a single code.
Attaching Spotify through your details on Facebook enables you to
Sync quickly on Spotify through Friends on social media and then see what songs your peers want.
Post your listening preferences easily on Facebook.
Once you let Spotify disconnect from Facebook, all these functions would be removed.
And when the Spotify application is connected to Facebook there are several reasons why viewers are worried about their confidentiality. And the services provide connections to the other providers about the details about you. Connections like that really let the users share with companies about their interests and experiences.
And general, only with details you give on both accounts, you have to support both businesses. You shut down the confidentiality more by unmounting the services. This depends on what is more essential to you: family and social media, and your confidentiality. Then move on if you really have taken the choice to resynchronize the multiple users.
Part 2. How to Let Spotify Disconnect from Facebook?
Here are some Spotify disconnect from Facebook steps and guidelines.
In order to let Spotify disconnect from Facebook, you need to follow all the steps below.
Sign through your profile using Spotify.
Tap the Profile icon and choose the Account button.
From the selection in the left home screen, select Privacy Settings.
Move down to the Facebook Data file then deactivate Facebook Data Processing.
Select Yes- Switch Off in the verification screen.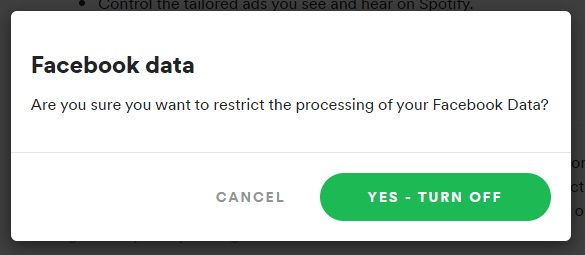 It will also restrict Spotify by collecting details on who is sharing playlists on Spotify with you. This will prohibit anyone from sharing or uploading Facebook connections to your Facebook, and much more.
This removes the login feature so that you always have the ease of signing into Spotify through the Facebook page, however by prohibiting Spotify from revealing any of your Facebook information, it enhances your confidentiality.
When linking is unsuccessful this is how Spotify disconnect from Facebook when it is difficult.
What is surprising is when things very straightforward as unplugging the Facebook profile with the Spotify account often found Spotify incredibly difficult.
Spotify resources in which you can manually uninstall Facebook to Spotify:
Just for Facebook info, but not your Facebook username, can be disconnected.
The alternative option to detach each Facebook connection through the computer application does not exist.
You can't even see Facebook listed when you try the options in the Spotify phone application.
There is definitely a way to detach the Social media account through Spotify, although it does seem unlikely.
Sign through your Facebook profile, then take these measures underneath to initiate a complete Spotify disconnect from Facebook.
Tap the drop-down towards the top right of your main Facebook section and then select the Settings button.
Through the control panel from the left corner of the browser, pick Applications including portals.
To pick it, move down once you find the Spotify application then click the choose box.
You'll have an alert that this activity might disable your Spotify database, but somehow it won't. Click Delete.
If you actually also want previous Spotify comments on Facebook to remain deleted, may not remove all links, images, and clips.
You could go straight to the Spotify Site Player when you are done and sign in with your security code. There would no longer become a Facebook authentication open.
You could also detach Spotify with the Facebook application for both IOS or android if you're not using Facebook in your browser.
Through your mobile, launch the Facebook application.
Using the three horizontal lines to press the button menu.
Tap the Preferences and Privacy drop-down, then select the Settings tab.
Follow the link and select Sites and Apps.
Select Facebook Signed in, then press Edit to launch that list.
Within Live, drop down to the Spotify application.
Besides the Spotify application, select the station list then click the Delete button.
You'll see and notice that the Spotify account may be deleted by all this behavior. Do not even panic about the message. To start connected from the system of the Spotify application through Facebook, select delete. And you will get Spotify disconnect from Facebook.
Part 3. How to Delete Spotify Account?
To uninstall a Spotify account, take these measures once you have terminated your subscriptions.

Go over to "https:/www.spotify.com/about-us/contact/" through your web browser
Within the upper right-hand nook, select Username and sign the Spotify details through your profile
Select Profile, and afterward hit the button to completely delete the Spotify account
Tap on the Account
After selecting Close Account, verify your termination
Click the button to disable the Spotify entire account permanently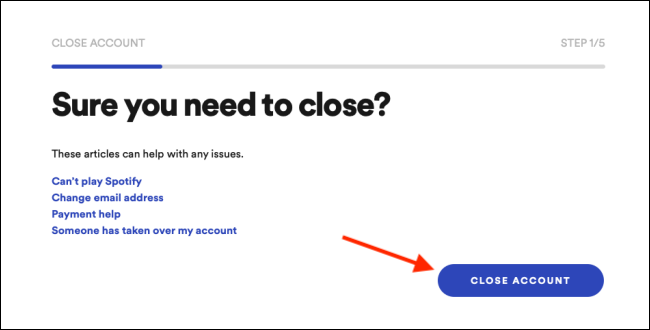 When you closely take all the above measures, your closing of the Spotify account would be effective. And then you can get Spotify disconnect from Facebook.
You could also bypass all of the above measures and go directly through the Spotify involuntary termination connection given below from the Spotify involuntary termination section:
Connect to uninstall the Spotify account: https:/support.spotify.com/us/en/close-account/
Don't be afraid! You might not obtain termination verification immediately and take into consideration that it is the common known and easily available content service across the globe. So through email, you can also notify the Spotify customer service.
And there is a 24 to 48 hours response time. After reading your emails, search the spam folder too. You might not have an instant answer, though.
When your answer has been provided and the profile isn't really closed yet, repeat your query using the same email address. They would happily close when you stay.
Message them through Facebook and Twitter if you really do not have an email. It will be much more competitive. When you're logged in to your profile through Facebook you're supposed to either have to withdraw the requested consent through the Facebook page.
Part 4. How to Get Spotify Songs without A Premium Account?
Users might connect to any track, compilation, and album through Paid members through the Spotify Free plan, but would have to adjust to the advertisements added during each song or two.
The most frustrating factor of the Free program relative to the Paid version though is Spotify Free accounts are still unable to perform Spotify music offline, whereas Spotify Paying members can stream 10,000 Spotify content for four or five devices on each device.
TunesFun Spotify Converter which shows you how to access Spotify music series of steps through the Spotify Free profile. TunesFun Spotify Converter is indeed a Spotify way to download that is easy but efficient.
Without the need to download the Spotify application, it can easily convert Spotify tracks, collections, or video content to MP3, AAC, WAV, and FLAC over 5X with lossless performance audio quality and transfer rate when retaining the ID3 labels during conversion.
Here are the steps on how to get the song without the Spotify Application.
1. Download and install the TunesFun Spotify Music Converter on your device.
2. Launch and open the program by simply clicking the app.
3. It's either copy and paste the URL link on the conversion box or just drag and drop the file on the box.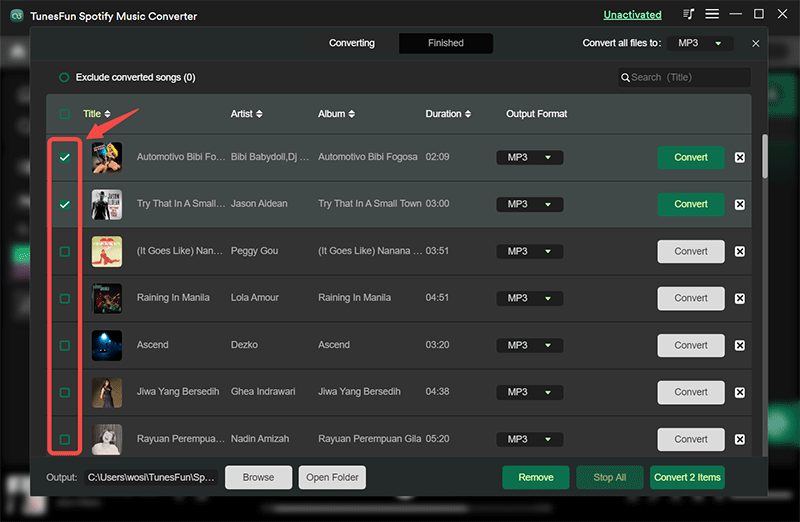 4. When the file is placed on the box choose the right file format.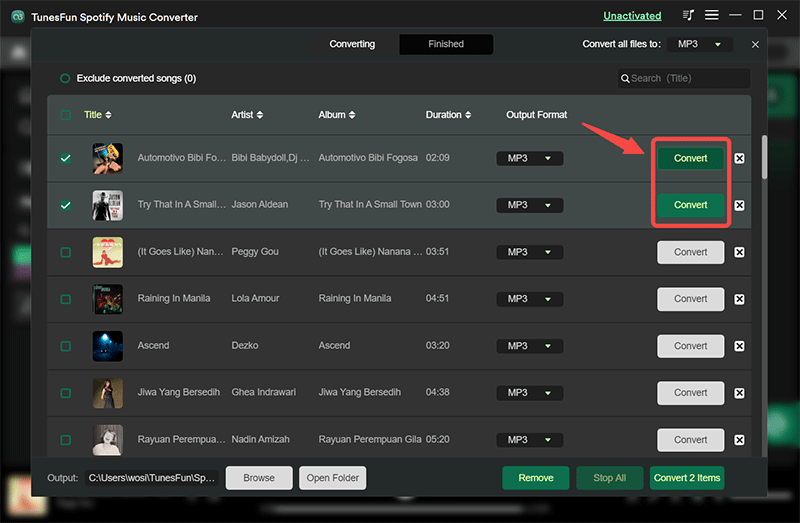 5. Then start the conversion by clicking the convert button located on the right side of the display.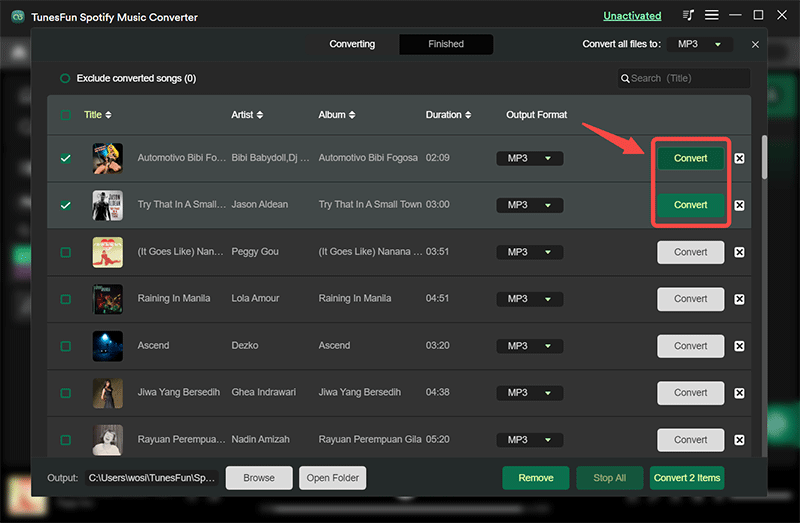 6. Confirm and save the files on your computer and choose as many files as you can again and again.
Part 5. Summary

Spotify allows signing into your profile conveniently. In reality, to use the Facebook account for Spotify verification, you should establish Spotify, which allows that even if the browser has been signed through Facebook, you could easily launch the Spotify Web Player until then you are signed in.
However, there could be some instances whenever you need to sign through with a separate username to the Spotify account and you need to separate your Spotify Social media account. There are many options you can still do this, but before that, once you unlink Spotify through the Social media account, you have to make absolutely sure you can get through your profile.
Be conclusive that you've got what is your existing Spotify login once you start. From your settings menu, Spotify does not give rise to it that easy or the authentication reset section. To readjust the profile, that being said you could really go immediately to the authentication research section. You're available to split the link among your Facebook profile as well as Spotify already which you understand the real Spotify login.
Your primary issue was only that you really can switch off that link without losing the password to take in through your Facebook profile when Facebook can view the Spotify preferences including information and let Spotify disconnect from Facebook.